Over 100,000 businesses are said to have registered offices in Ireland since Britain voted to leave the European Union last year.
Stephen Kelly, chief executive of campaigning organisation Manufacturing Northern Ireland, told a House of Commons committee on Wednesday (22 February) that UK companies were establishing a presence in Ireland as hedges "against worst-case scenarios, if they develop".
In January, Prime Minister Theresa May announced she had dropped ambitions to maintain access to the single market, striking a blow to the business community.
When that occurs, Ireland will be the only territory to share a border with the United Kingdom, which has direct access to European markets.
Speaking at the Northern Ireland Affairs Committee, Kelly said: "We are aware of quite a number of companies that are ... having to take decisions and having to take decisions now.
"We're very conscious there's a two-year process in terms of the Article 50 triggering and the expectation of having a new arrangement and deal by the end of that period, but manufacturers have very large capital investments.
"Manufacturers need time to plan, they need time to ensure they put in place whatever measures they need to ensure their sustainability in the long term.
"We know companies will be making decision within the next 12 months, not within the next 24 months, in order to give themselves time to put in place whatever new arrangements they have to satisfy their own internal business needs."
Kelly said he received his first phone call at 8am following Brexit, with companies enquiring about new manufacturing locations. One of the companies to move south of the border was pharmaceutical company Almac Group, which is one of Northern Ireland's largest employers.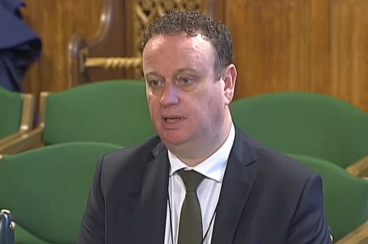 Executive director Colin Hayburn told the committee: "[Our clients] wanted to know what was our EU solution going forward. We had to address that.
"We needed an EU presence immediately to satisfy those customers."
He added: "We have no desire that [Almac products] would not be manufactured in Northern Ireland.
"It would not be ideal in any way, but if there isn't clarity and there is nervousness there in relation to what the future is, we might be forced into having a greater manufacturing presence in the south because of our need for EU operations."