The owner of the world's largest Star Wars memorabilia collection is desperately trying to recover 100 items that were stolen from his extensive catalogue.
Steve Sansweet was allegedly betrayed by close friend Carl Edward Cunningham, who is accused of pilfering $200,000 (155,000) worth of memorabilia between 2015 and 2016. Sansweet, owner of the Rancho Obi-Wan museum in Petaluma, California, revealed his "devastation" in a post on his website and pleaded with the public for help in retrieving the treasured items, described as "rare and important pieces".
The renowned collector said: "I have known Carl for many years, considered him a good and trusted friend, and played host to him at my home numerous times. I, and the staff at Rancho Obi-Wan, are devastated that he is the alleged perpetrator of the thefts."
Cunningham, 45, hails from Marietta, Georgia, and is a fellow Star Wars collector who has known Sansweet for more than 20 years.
The suspected thief was arrested in March in Sonoma, California, and charged with felony grand theft. Cunningham was released on $25,000 bail and is expected to attend a preliminary hearing on 27 June.
In an interview with The Guardian, Sansweet added: "It's devastating. It's a feeling of utter betrayal that someone could stoop to this level, an alleged friend and confidant, someone I had invited to my house and shared meals with."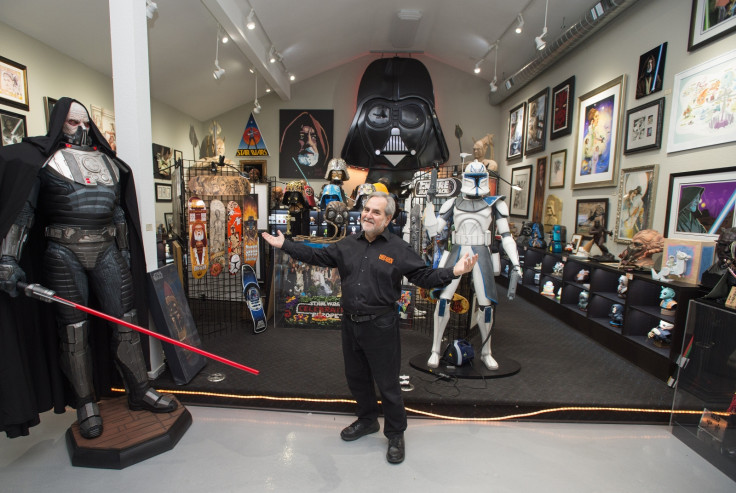 Sansweet's pleas have attracted the attention of Star Wars actors Mark Hamill, who plays Luke Skywalker, and Peter Mayhew, who starred as Chewbacca. Hamill, 65, tweeted: "Maybe publish a list of stolen items to protect potential victims from purchasing 'hot"'merchandise. #TheFraudIsStrongInThisOne #SithHappens," while Mayhew added: "This is despicable. Keep an eye out. Get the word out."
Passionate about George Lucas's franchise, Sansweet has collected approximately 350,000 collectables since 1977 and previously worked as head of fan relations at Lucasfilm. Sansweet was named the owner of the biggest Star Wars memorabilia collection by the Guinness Book Of Records in 2013.