A witness in the Bill Cosby sexual assault trial testified against the comedian during the first day in court (5 June). The former Cosby Show actor stands accused of sexually assaulting Andrea Constand in 2004 and will appear at the Montgomery County Courthouse in Pennsylvania over two weeks.
Kelly Johnson, a former assistant of Cosby's agent, was brought to the witness stand by the prosecution and claimed that she was also sexually assaulted by the American actor in 1998.
Johnson recalled being invited to the 79-year-old's home and asked to "act out" a scene from a script which resulted in the pair embracing and kissing.
However, the evening came to an end when Cosby reportedly grew angry with Johnson for "not participating".
On another occasion, Cosby allegedly invited Johnson to a hotel where he was staying. Johnson claims she was offered a white pill and some wine by the comedian who allegedly said she "needed to relax".
Johnson then recalled feeling as though she was underwater before waking up in Cosby's bed. Cosby allegedly made "grunting sounds" and put lotion in her hand so she could touch him. Johnson's clothes were also reportedly pulled up making her feel "naked".
Johnson's recollection of the alleged assault bears similarities to the account of Constand, who alleges she was given pills which left her unable to move or speak before being assaulted by Cosby at his Philadelphia home.
Defending his client, Brian McMonagle said of the allegations in court: "Sexual assault is a terrible crime. The only thing that is worse than that is the false accusation of sexual assault. A false accusation can destroy a life. We are talking about somebody's 'tomorrows.'"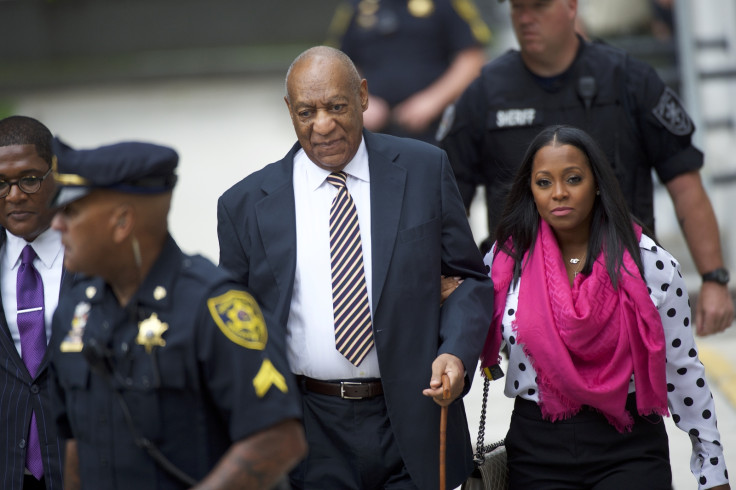 The prosecution argued: "You're going to see the defendant for exactly who he is. This man used his power and his fame and his previously practised method of placing a young, trusting woman in an incapacitated state so he could sexually pleasure himself."
Nearly 60 other women have accused Cosby of similar sexual assault offences in recent years but he is only on trial over the Constand claims. If convicted, Cosby faces up to 30 years imprisonment. Cosby was present during the first day of the trial and was flanked by his former Cosby Show on-screen daughter Keshia Knight Pulliam who played Rudy Huxtable.