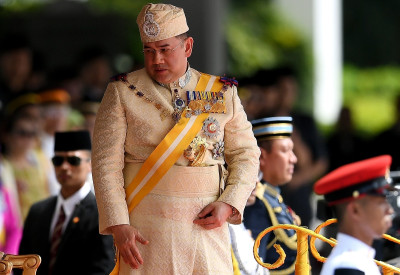 Malaysia formally crowned a 47-year-old British-educated sultan as its 15th king on Tuesday (13 December). Sultan Muhammad V, who is famously known for extolling Islam, is reported to be one of the youngest constitutional monarchs in the Asia Pacific region.
He was elected in October to take over from Kedah state's Sultan Abdul Halim, 89, who was Malaysia's oldest king. Sultan Muhammad V took oath of office of the Yang di-Pertuan Agong, in a nationally televised ceremony that was attended by hundreds of delegates in Malaysia's federal palace.
He is the constitutional ruler of northeastern Kelantan state in Malaysia since 2010. He is well known for his love for car driving, horse riding, golf, shooting and football.
The king, who studied at St Cross College in Oxford and the Oxford Centre for Islamic Studies, was sworn in at Parliament where he inspected a military honour guard. He was greeted by Prime Minister Najib Razak and received a 21-gun salute.
According to AP, the country maintains a unique system where nine hereditary state rulers take turns in getting crowned as the king for five years.
Since its independence from Britain in 1957, Malaysia has followed a constitutional monarchy with an elected monarch as head of state. This leaves only ceremonial powers to the monarch as administrative power is vested in the prime minister and parliament. However, the king is revered as a symbolic head of Islam and as the supreme upholder of Malay tradition among the ethnic Malay Muslim community.
The monarch has the power to appoint cabinet ministers and senior judges on consultation with the prime minister. He also installs top Islamic clerics and is considered as the highest-ranking person in the nation's armed forces.
Under Malaysian sedition law, anyone who publically criticises or incites hatred or contempt towards the royal family and the state sultan can be sentenced to prison for three years.