Channel 4's latest hard-hitting documentary, The Paeophile Hunter, aired on Wednesday 1 October to huge acclaim.
The documentary followed journalist and vigilante Stinson Hunter as he lured paedophiles off chat rooms and into his home, before posting their photos and personal details to Facebook.
Despite Stinson's unorthodox methods, and the haunting news that one of the men he "caught" later committed suicide, social media overwhelmingly voiced support for the cunning investigator.
Around 10,000 tweets have been posted in 24 hours about The Paedophile Hunter, and a rudimentary scan shows the overwhelming majority are in support of Stinson's activities. The Mirror revealed on Thursday 2 October that 90% of its readers agree with the vigilante's controversial tactic to tackle sex offenders, reporting that an online poll shows Mirror readers "feel [Stinson] is justified in his actions".
Though vigilantism is typically condemned in advanced democratic societies such as the UK, in which the police are largely considered to be a trustworthy organisation, Stinson's work has been heralded as "brave" and "necessary" by Brits, and his Facebook account has attracted more than a 250,000 supporters.
Stinson's Kickstarter page, where he accepts donations towards his paedophile-hunting activities, reached over £15,000 following last night's broadcast.
Twitter reacts
Twitter user @ChrisFrton1980 called Stinson a "working-class legend", also tweeting: "This lad needs funding. That's where I'd like to see some of my council tax spent!!"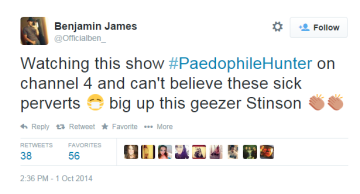 Similarly @ClaireaBellaLtd wrote: "Hats off... He is saving someone! Someone's child! I don't disagree in the slightest with what he's doing!"
"Anti-paedophile activism" is a larger movement in the US, where (in some states) the names and addresses of those listed in the sex offenders registry is made available to the general public – the only country in the Western world to do so.
In the UK, many people on Twitter used the documentary to criticise the police and the justice system, advocating the work of Stinson as necessary because of failings in the way the law treats sexual abusers.
@Consciousgary said: "It's absolutely crazy that the police would threaten to jail someone who's doing a job that they continuously fail to do."
@LeeMConway tweeted: "The police are basically saying to the guy, 'Stop doing our job better than us.'"
But support for Stinson is not universal and some have drawn attention to the "dangerous consequences" of vigilantism.
@RobScowen tweeted: "When it comes to abuse, vigilantism is *dangerous*. You have no idea how this is going to play out for victims."
And @DanHeley1 questioned Stinson's motives, posting: "The Paedophile Hunter on Channel 4 is madness. Get a job and leave it to the professionals, it's one massive ego boost for him."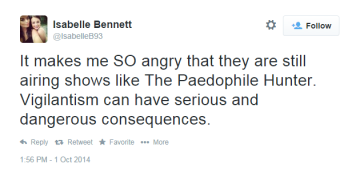 Vigilante justice
Although Stinson's investigations are not illegal, the police regularly contact Stinson advising him to desist his operations over fears his actions could result in harm to the alleged paedophile and their family, or potentially endanger ongoing police investigations.
A number of charities have also jumped into the conversation about The Paedophile Hunter online. End Child Prostitution, Child Pornography and Trafficking of Children for Sexual Purposes (ECPAT) – a charity that campaigns against child sexual exploitation – said the documentary "shows why more must be done to protect children from abuse", though stressed this was the responsibility of the police and not members of the public.
Channel 4's broadcast comes at an interesting time for child sex abuse law and in the midst of the largest child abuse scandals the UK has ever seen. Seemingly a lot of allegations of historic child abuse by celebrities, teachers and politicians have been highlighted in 2014.
Trust in the police – which is regularly polled by Ipsos Mori and YouGov – has not changed much overall in the past 25 years, though events such as Hillsborough, the murder of Stephen Lawrence, the Andrew Mitchell "plebgate" scandal and revelations about ignored reports during Jimmy Savile sex abuse cases have led to momentary though significant drops in perceived trustworthiness and a raft of negative publicity.
It appears Channel 4's documentary has added fuel to the rumblings of distrust and distaste with policing in the UK in 2014, and commentators will be watching closely to see how the police react to Stinson's ongoing work and claims by his supporters than he is less a dangerous villain and more an archetypal hero of social justice.