An intense heatwave has killed an estimated 300 people in Pakistan's southern Sindh province, according to mortuary officials in Karachi. Authorities declared a state of emergency after the electricity grid crashed and bodies started to stack up in the morgues.
Temperatures soared to 44C (111F) on Saturday 20 June and hovered at 43C the following day, coinciding with a surge of demand for power as families broke their fast for Ramadan.
Mohammad Kashif, an official from Edhi Welfare Trust, a charitable rescue foundation that has its own mortuary, told Reuters: "We have received a total of 300 bodies of people who died of the intense heat. So far the relatives have taken away 250. We are urging them to bury the dead bodies as soon as possible, because there is danger of the bodies decomposing. There is also danger of the spread of disease."
Unclaimed bodies were being rapidly buried to create space in the morgues, Anwar Kazmi, a senior official of the Edhi Foundation, said.
Hundreds more are being treated for heat-related ailments, including fever and dehydration, said Seemi Jamali, a spokeswoman for Jinnah Hospital. She said most of those who had died were over 50 years of age. Many of the victims were weak because they were fasting.
Karachi resident Mohammad Ali said: "We brought our uncle here. He was fasting, and because of the heat, he collapsed."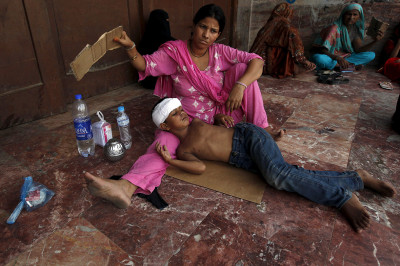 The heatwave is the worst in at least a decade, but the arrival of monsoon rains in the coming days should bring relief, meteorologist Mohammad Hanif said.
The army announced that it had set up 22 medical camps for people affected by the heat in the worst-hit areas of Sindh.