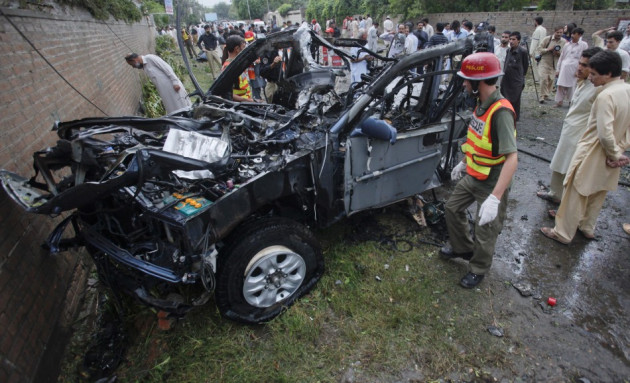 A bomb blast near the US consulate office in Pakistan's Peshawar city killed two Pakistani citizens and the bomber and wounded two foreigners.
A suicide bomber driving an explosives-filled car rammed a vehicle belonging to the US government which had left the consulate.
At least five people were wounded in the attack in northwestern Pakistan. The region is home to many important buildings including a UN office and theUS consulate.
The identities of the victims are not yet clear, according to police officials.
"We are not sure about the nature of the explosives at the moment or whether it was a remote control bomb or not," Umar Riaz, a senior police officer investigating the incident, told the AFP.
Local television channels carried images of a wrecked SUV which reportedly belonged to the US government.
The blast was so powerful that it destroyed nearby houses and several vehicles parked on the road.
US embassy officials in Pakistan said they were probing the incident.
Peshawar is the main city in northwestern Pakistan and in close proximity with the Taliban and al-Qaida militants' strongholds on the Afghan border.