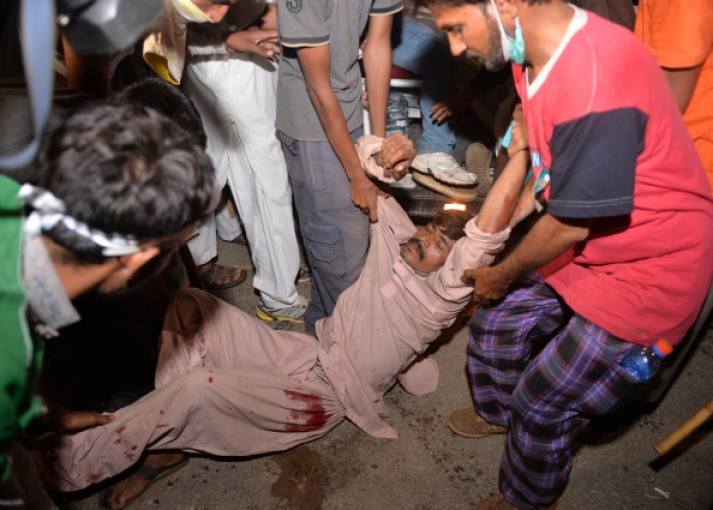 As anti-government protesters marched towards Prime Minister Nawaz Sharif's official residence to overthrow the government on Saturday (30 August), security forces fired at the protesters with tear gas, targeting a majority of women and children, injuring 144 and leaving 4 women reportedly dead, confirmed ARY News.

"The government has a limit as well. No one forced women and children to take part in the protests, they joined in willingly. You live by sword, you die by sword. We were forced to take action. We had no choice but to use force," said Defence Minister, Khawaja Asif.
Approximately 144 people are injured, with a majority of casualties reportedly being women and children. Four women have also been confirmed dead at the Polyclinic Hospital in Islamabad, reported ARY News.
Meanwhile PM Nawaz Sharif and Interior Minister, Chaudhry Nisar, are turning a blind eye to the security forces offensive.
"A mob wants to capture the Parliament House and the Prime Minister house. Police and I have taken an oath to protect Pakistan and all institutions and this is what they [police] are doing," said Nisar as he met with the police at the Red Zone area in Islamabad.
Earlier in the day, PM Sharif played down the protests as a small storm that will pass.
"The demands that were acceptable have been accepted. You have seen how many people there are at the protests and how many chairs are empty," said PM Sharif.
Both Pakistan Tehreek-i-Insaf (PTI) leader, Imran Khan, and Pakistan Awami Tehreek (PAT) leader, Dr Tahir-ul-Qadri, had requested their supporters to peacefully march towards the PM house before the situation got bloody.
Targeted Attacks on Women and Children
Critics on ARY News said that the attacks on women and children were planned so the men could be deterred from marching ahead and progressing the Azadi (Freedom) March.
It has also been reported that injured people are being hidden behind police containers in the Red Zone to prevent the mounting casulaties from being reported in the media.
Doctors across the capital have also been instructed not to comment on the number reportedly injured, as the government wants to take ownership of the media, reported ARY News.
In other news, two helicopters have reportedly flown from Islamabad to Lahore carrying gold and other valuables from PM Nawaz Sharif's house.
Where are the PTI and PAT leaders?
Amidst the rising tensions on the ground, some are demanding the PTI and PAT leaders to play a more active role and support the injured public civilians.
I thought Imran Khan and Tahir ul Qadiri were to lead the protest?? Or have the women and children replaced our brave 'leaders'?? #TearGas

— Samar Minallah Khan (@SamarMinallahKh) August 30, 2014
Thanks #ImranKhan for finally making an appearance,aap ke bohat mehrbani. Your thousands of followers must feel reassured #Pakistan #TooLate — Mehreen Zahra-Malik (@mehreenzahra) August 30, 2014
My Thoughts with masses of Pakistan in this sad ordeal. All the gang of thieves including Khan, Qadri and Sharif are responsible for this.

— Arash Azizi (@arash_tehran) August 30, 2014
Sources at ARY News, however, claim snipers are waiting for both Khan and Qadri.
Bureau chief of @ARYNEWSOFFICIAL confirmed that #Pakistan government has snipers to kill @TahirulQadri and @ImranKhanPTI as they leave car

— Umar Mirza (@umarmirza) August 30, 2014
On top of the Container with my ppl as tear gas fired directly at us. Cowardly action by govt. pic.twitter.com/h8fpMmqkOS — Imran Khan (@ImranKhanPTI) August 30, 2014
The bullet shell and tear gas cell just fired on Azadi Bus. pic.twitter.com/e1zeu4DuN1

— Imran Khan (@ImranKhanPTI) August 30, 2014