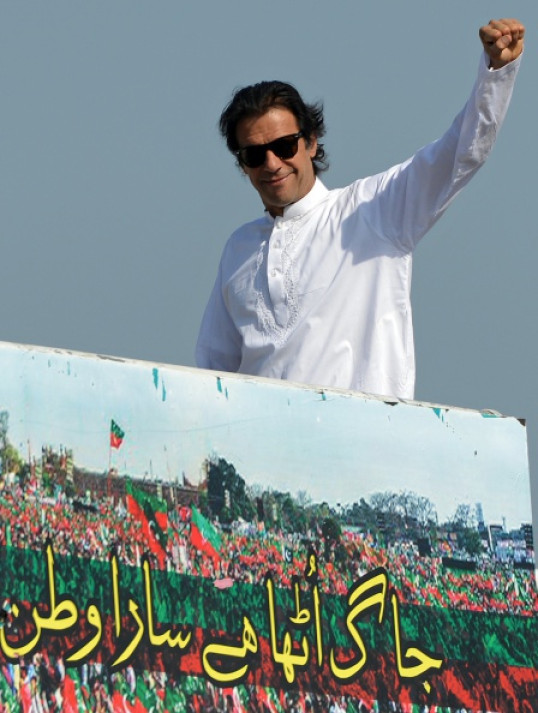 Pakistan Prime Minister Nawaz Sharif has been embroiled in another controversy, after Pakistan Army's Director General Inter-Services Public Relations (ISPR) confirmed the army's involvement on the government's command, despite Sharif's earlier insinuation on the National Assembly floor where he blamed the army's inclusion on Pakistan Tehreek-i-Insaf (PTI) and Pakistan Awami Tehreek (PAT) leaders.
Prime Minister Nawaz Sharif and Interior Minister Chaudhry Ali Nisar Khan had earlier suggested that the army had stepped in at the request of cricketer-turned politician and PTI chairman, Imran Khan and PAT Chairman, Dr Tahir-ul-Qadri.
"Again and again they said they only trust the army and will only have talks through the army. When a group or two parties has no faith in the judiciary, the opposition, lawyers or civil society and has no confidence in anybody, what option remains for the government?"said Nisar Khan.
However, Pakistan Army's Director General of ISPR, Asim Bajwa, confirmed today (29 August), in direct contrast, that the army was called on by the government.
ISPR Release:#COAS was asked by the Govt to play facilitative role for resolution of current impasse, in yesterday's meeting, at #PM House

— AsimBajwaISPR (@AsimBajwaISPR) August 29, 2014
Since ISPR confirmed the news, both Khan and Qadri are calling for the Prime Minister to be disqualified.
ISPR confirms Govt asked army to play role. Nawaz Sharif should now be disqualified under Article 63. He also maligned Parliament & Army. — Imran Khan (@ImranKhanPTI) August 29, 2014
The PM has deceived the nation; he lied on the floor of the national assembly. It is pitiful that this is Pakistani Parliament #Pakistan

— Dr Tahir-ul-Qadri (@TahirulQadri) August 29, 2014
The PM of #Pakistan does not have the moral courage to speak the truth, so he has no right to stay in power. — Dr Tahir-ul-Qadri (@TahirulQadri) August 29, 2014
Meanwhile, PTI Chairman, Imran Khan, has confirmed that his party will expand their protests to Karachi, Lahore, Multan and Faisalabad starting Saturday (30 August).
An Express Tribune online poll reveals that 52 per cent of voters feel the Army is the only way forward while a close 48 per cent voted against the army's arbitration, even if it takes longer to resolve the dispute between the various political actors in Pakistan.
The Azadi (freedom) March began on 14 August, Pakistan's Independence Day, with a mission for Naya (new) Pakistan, free of corruption.
Khan had kick-started the march saying: "The entire Pakistan knows that the general elections were rigged," before warning the government to verify the voting count or else a Tsunami March will take over Pakistan."