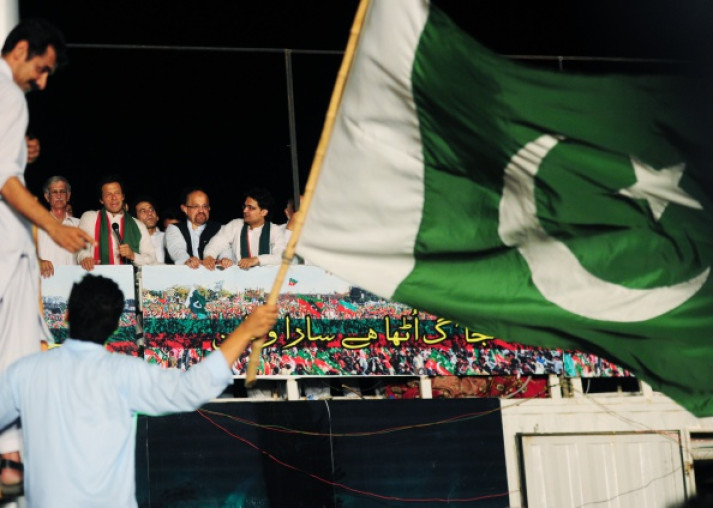 After yesterday's (30 August) bloody clashes between anti-government Pakistan Awami Tehreek (PAT) and Pakistan Tehreek-i-Insaf (PTI) supporters, and Pakistan's security forces, besieged Prime Minister Nawaz Sharif, has decided to file legal charges against the opposition party leaders, Imran Khan, and Dr Tahir-ul-Qadri, as the crisis continues without a peaceful resolve.
Heavy tear gas and rubber bullets injured scores of civilians, including women and children, as they were demonstrating a peaceful march and approaching the PM's official residence yesterday (30 August).
Amidst the bloodshed and hospitals' call for blood donations, the political mayhem continues with PM Sharif and his party leaders failing to reach a compromise.
Following the government's decision to press legal charges against him, Khan appealed to supporters for cooperation.
"Pakistanis, you have to fight against this. Over 700 police officers' resignation displays that Nawaz Sharif and Interior Minister, Chaudary Nisar, are unable to find more people to carry out mass murders for them," said Khan in a video message to his supporters today (31 August).
Khan's official Facebook page further quotes him:
"Educated people who were discussing politics in their living rooms are awake now, they have sent their views and message for the nation. They are no fools, this is the educated class who can clearly see what Nawaz Sharif is up to, they are not any hypnotized or paid people. This is the voice of nation."
Meanwhile, protesters continue their sit-in outside the Parliament House in Islamabad, Pakistan.
So far the government has not repeated yesterday's use of heavy force on the protesters.
"We wish to solve this crisis politically and our negotiation teams are ready to hold talks once again," said Defence Minister, Khawaja Asif.
The Chief of Army Staff (COAS) General Raheel Sharif also held a conference today (30 August), reaffirming the army's support for democracy and condemning the violence and loss of lives.
COAS Sharif reiterated that the political crisis can only end through political means, which drew further criticism.
#Pakistan army statement is quite hedged. Supports democracy but warns against use of force. Uncertainty persists. http://t.co/rd1C3cF0m5

— Myra MacDonald (@myraemacdonald) August 31, 2014
Why is #ISPR issuing #PoliticalAdvisories? — Taha Siddiqui (@TahaSSiddiqui) August 31, 2014
Secret Alliances
Sources at Reuters in Pakistan have alleged that a secret alliance has been formed between the Pakistan Army and PM Sharif.
"Thinking that Imran could be a game-changer, Nawaz has conceded the maximum to the army. From a czar-like prime minister, they (the army) have reduced him to a deputy commissioner-type character who will deal with the day-to-day running of the country while they take care of the important stuff like Afghanistan and India. This is not a small loss," said a Sharif aide according to Reuters.
Pakistan India Factor
Meanwhile, India's Union Home Minister, Rajnath Singh, has threatened retaliation against Pakistan if the border ceasefire is further violated at the line of Control.
"I told the [Border Security Force] BSF DG that if Pakistan does not desist and keeps going on with its violations, give straight orders (to the BSF troops) that next time white flag will not be shown, but firing will be started (from the Indian side). We are not weak, we have full capability to give a befitting reply," said Singh, reported NDTV News.
New Delhi called off a meeting between foreign ministry officials on Monday (25 August), after Pakistan's top diplomat in New Delhi met with separatist leaders from Kashmir.