On the evening of 26<sup>th July 2018, as he was preparing a romantic dinner for his wife, 31 year-old Israeli man Yotam Ovadia was jumped upon by a 17 year-old Palestinian terrorist Muhammed Tareq Yussef, who repeatedly stabbed him to death in the community of Adam, just outside Jerusalem.
Yotam was the father of two small children, aged two years and seven months, who were still holding onto their bottles when the tragic news of their father's death was first delivered.
During his funeral, Yotam's father-in-law noted "you were everything to your wife and children", with Yotam's widow crying out "I don't know how to continue and to be strong for the children."
Yotam's teen murderer, Yussef, came from a nearby Palestinian village of Kober, before infiltrating Adam. Yussef had stabbed two other people, one of whom managed to discharge his weapon in self-defense and kill Yussef.
The basic fact of the matter is that attacks like these do not occur in a vacuum. Such acts of pitiless slaughter are the direct result of a pervasive Palestinian infrastructure headed by Palestinian Authority President Mahmoud Abbas, indoctrinating hate, inciting violence and instilling a worldview justifying such gruesome acts.
It should therefore come as no surprise that Abbas has refused to condemn the abhorrent murder of Yotam.
Instead, while Yotam's body was still warm, Abbas was in all likelihood getting out his checkbook to make sure the family of Yotam's murderer would receive a healthy pension for life under the Palestinian Authority's twisted 'Pay to Slay' program.
This program, mandated under Palestinian law, requires the PA to reward Palestinian terrorists in Israeli jails and their families with monthly stipends or salaries, which are in most cases many times higher than the average Palestinian salary. In fact, in this perverse Pay to Slay program, the more Israelis you murder, the greater the reward.
In 2018, approximately $360 million, or 7% of the PA total budget, has been allocated towards such terror payouts.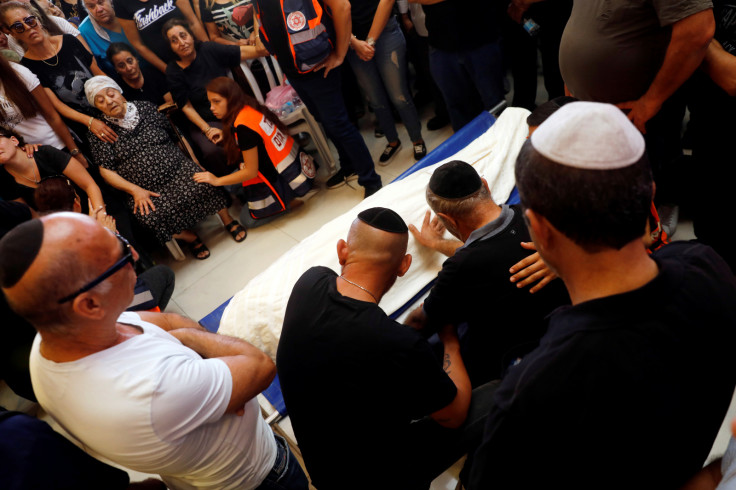 According to Palestinian Media Watch, the PA, who called Muhammed Tareq Yussef, Yotam's murderer, a 'martyr', will now reward Yussef's family with at least a one-time grant of $1,643 and a monthly allowance for life of $383.
Only last week, and just days before Yotam was murdered, Mahmoud Abbas said: "Even if we have only a penny left, we will give it to the martyrs, the prisoners and their families," adding "we view the prisoners and the martyrs as planets and stars in the skies of the Palestinian struggle, and they have priority in everything."
Meantime, Saeb Erekat, the Palestinian Chief Negotiator and Secretary-General of the Palestine Liberation Organization (PLO), has labeled these terror payments as a form of "welfare system". Even Orwell could not make that up. Erekat has previously also described the convicted Palestinian terrorists who are receive such payments as heroes deserving of "admiration and honour."
Instead of investing in peace, the Palestinian Authority continues to steal the foreign aid intended for the Palestinian people, to invest it in their state sponsored terrorist infrastructure.
And all this is being done under the watchful eye of the international community, especially Europe.
The United States however, with the passing of the historic Taylor Force Act this year, has said enough is enough, by cutting off aid to the Palestinian Authority as long as they continue to incentivize, pay and reward terrorists and their families.
During his visit to the Middle East last year, President Trump, standing alongside Mahmoud Abbas in Bethlehem, said very clearly: "peace can never take root in an environment where violence is tolerated, funded and even rewarded."
Australia has also recently redirected $10 million of its Palestinian aid to the World Bank out of concerns that this money was being used by the PA to pay terrorists.
But what about the European Union, which is the biggest donor of financial assistance to the Palestinians, with an estimated €200 million ($235 million) in direct payments to the Palestinian Authority.
Johannes Hahn, the EU commissioner for European Neighborhood Policy and Enlargement Negotiations, has even gone so far as to say "The European Union is, and will remain, Palestine's most reliable and important donor."
But shouldn't such a 'reliable and important donor' demand greater accountability for their money to ensure it is not directed towards payments to terrorists, their families and incitement to further violence?
Even Michel Theurer, former Chairman of the European Parliament's Committee on Budgetary Control, has complained about the lack of oversight of EU aid to the Palestinians, including concerns that money was being used by the PA to pay salaries to Palestinian prisoners convicted of terrorism offences.
The EU generally does not waste an opportunity to condemn Israel over settlement building, but where are the leading European voices calling out the Palestinian Authority for their ongoing rewarding of terror and incitement to violence?
How much longer can the international community allow the Palestinians to, literally, get away with murder?
How much longer can the EU continue to turn a blind eye to this 'Pay to Slay' obscenity?
There is no dispute that there are a great many Palestinians in urgent need of foreign aid and assistance, but so long as the Palestinian Authority continue to usurp this money and direct it for payment to terrorists, the status quo whereby they receive blank checks cannot continue.
With each unaccountable dollar, the EU will continue to be underwriting the murder of innocent Israelis like Yotam Ovadia.
---
Vladimir Sloutsker is the President & Co-Founder of The Israeli-Jewish Congress (IJC)
---