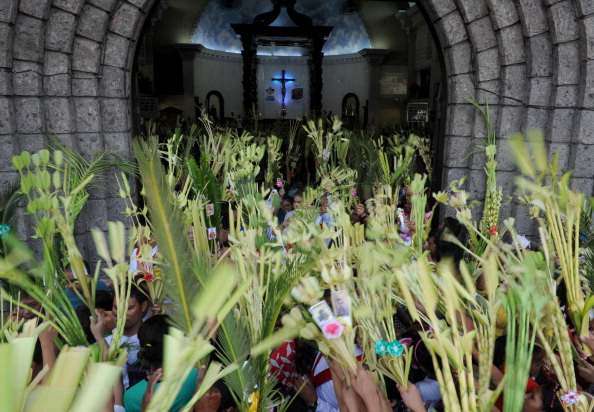 Christians around the world will celebrate Palm Sunday 2015 on 29 March, to remember the triumphant entry of Jesus Christ into Jerusalem on the Sunday before Easter.
The occasion marks the beginning of the Holy Week, the most sacred days of the Christian calendar, to be followed by Maundy Thursday, Good Friday, Holy Saturday all the way up to Easter -- the resurrection of Christ.
In the Bible, Saint John describes the happenings on Palm Sunday as: "The next day the great crowd that had come for the Feast heard that Jesus was on his way to Jerusalem, they took palm branches and went out to meet him, shouting, 'Hosanna! Blessed is he who comes in the name of the Lord! Blessed is the King of Israel!"
During Palm Sunday services, large palm branches are carried in procession, to represent the palm branches the crowd scattered in front of Jesus as he rode into Jerusalem.
IBTimes UK has compiled top ten Palm Sunday quotes to mark the beginning of the Holy Week.
"Rejoice greatly, O daughter of Zion! Shout, daughter of Jerusalem! See, your king comes to you; righteous and having salvation, gentle and riding on a donkey, on a colt, the foal of a donkey." - Zechariah 9:9
"And you shall take to you on the first day the fruits of the fairest tree, and branches of palm trees, and boughs of thick trees, and willows of the brook: And you shall rejoice before the Lord your God." – Leviticus 23:40
"Jesus found a donkey and sat upon it, as Scripture says: Do not fear, city of Zion! See, your king is coming, sitting on the colt of a donkey!" - John 12:14
"Then I saw heaven opened and a white horse appeared. Its rider is the Faithful and True; he judges and wages just wars."- Revelation 19:11
"When Christ entered into Jerusalem the people spread garments in the way: when He enters into our hearts, we pull off our own righteousness, and not only lay it under Christ's feet but even trample upon it ourselves." - Augustus Toplady
"No pain, no palm; no thorns, no throne; no gall, no glory; no cross, no crown." - William Penn
"But Palm Sunday tells us that ... it is the cross that is the true tree of life." - Pope Benedict XVI
"Palm Sunday is like a glimpse of Easter. It's a little bit joyful after being sombre during Lent." - Laura Gale
"Lord, we lift up your name. With hearts full of praise; Be exalted, O Lord my God! Hosanna in the highest!" - Carl Tuttle
"Alleluia, how the people cheer and palm leaves rustle as the king draws near." - John Beavis