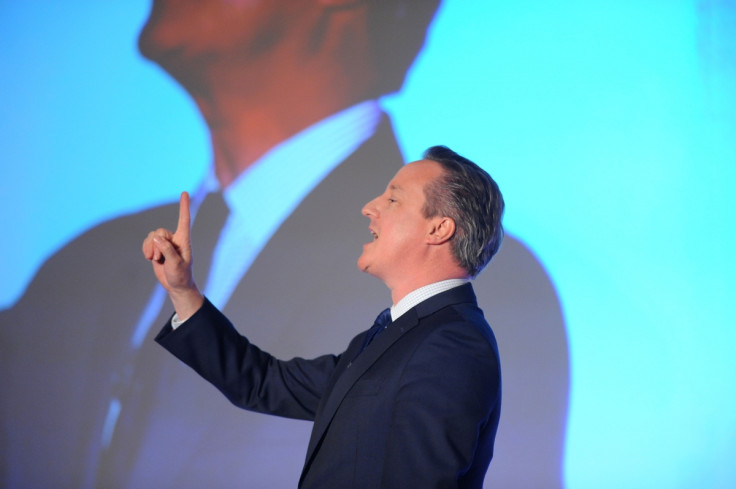 David Cameron has faced intense pressure from the public and his political rivals for more than a week after the explosive Panama Papers leak linked his father to law firm Mossack Fonseca, which is at the centre of the tax avoidance scandal.
The controversy for the prime minister centres on Blairmore Holdings, which was set up by the late Ian Cameron in 1982. The former stockbroker, who died in September 2010, incorporated the investment trust in Panama in 1982 and ran the fund out of the Bahamas.
The company used secretive "bearer shares" until 2006, while Cameron would later ban their use in the UK in 2015. There is no suggestion that Ian or David Cameron has broken the law, but the prime minister's links to the offshore fund has triggered a transparency row. Here, IBTimes UK has charted how the Conservative leader has handled the scandal.
4 April

The Guardian and other publications linked with the International Consortium of Investigative Journalists (ICIJ) publish the first stories on the Panama Papers leak, which is made up of 11.5 million documents.
It is revealed that Ian Cameron was a client of Mossack Fonseca and journalists ask Number 10 if the prime minister had personally benefited from the fund. Downing Street attempts to end the story by stressing Cameron's financial affairs are a "private matter".
5 April
Cameron delivers a pro-EU speech at a Birmingham office of the accountancy firm PricewaterhouseCoopers. However, the pressure on the prime minister's links with Blairmore continues as Sky News' Faisal Islam grills Cameron on the issue.
"I have a salary as prime minister and I have some savings, which I get some interest from and I have a house, which we used to live in, which we now let out while we are living in Downing Street and that's all I have. I have no shares, no offshore trusts, no offshore funds, nothing like that," the prime minister responds.
ITV's Robert Peston asks Downing Street for a clarification on Cameron's comments – does the "I" extend to his wife Samantha and the prime minister's children? "To be clear, the prime minister, his wife and their children do no benefit from any offshore funds," Number 10 replies.
6 April
As the pressure on Cameron fails to die down, Downing Street issues another statement: "There are no offshore funds/trusts which the prime minister, Mrs Cameron or their children will benefit from in future."
7 April
Cameron sits down with Peston, the BBC's former economic editor, for a one-on-one interview about his family finances. "We owned 5,000 units in Blairmore Investment Trust, which we sold in January 2010. That was worth something like £30,000 ($37,450)," the prime minister admits.
Number 10 clarifies Cameron purchased £12,497 worth of shares in Blairmore in 1997, later selling them for £31,500 in 2010. Cameron stresses the shares were subject to UK taxes.
"I paid income tax on the dividends, but there was a profit on it but it was less than the capital gains tax allowance so I didn't pay capital gains tax, but it was subject to all the UK taxes in all the normal way," he says.
8 April
The British media seizes on Cameron's admission as skills minister Nick Boles is dispatched to defend his boss on the airwaves.
"I think he thought: 'I know that I have complied fully with all of the tax laws,' and I don't like feeding this mill of preying on his father's memory, and his father cannot defend himself," the minister tells BBC Radio 4's Today programme.
9 April
Activists descend on Downing Street to protest against Cameron, while the prime minister concedes to Tories at an event at the Grand Connaught Rooms in London that he is to blame for the handling of the tax row.
"I know there are lessons to learn and I will learn them. And don't blame No 10 Downing Street, or nameless advisers, blame me. And I will learn the lessons," Cameron says.
10 April
Cameron becomes the first British prime minister to publish his personal tax return, revealing that his mother had given him a gift of £200,000.
The documents, covering 2009 to 2015, showed Mary Cameron handed her son two £100,000 payments in 2011 following the death of his father in 2010, when he inherited £300,000.
11 April
Cameron is expected to face a grilling in the House of Commons as MPs return from the Easter recess. But the prime minister will reportedly counter the attacks by announcing a new crime for those who aide tax evasion.