The Panama Papers have provided fresh clues about the disputed ownership of a £17 million ($25m) painting that the Nazis allegedly looted from a Jewish art dealer. Leaked documents from Panamanian law firm Mossack Fonseca suggests that a prominent family of art-collectors might have used a shell company to conceal they were in possession of Seated Man With A Cane, a 1918 canvas by Italian master Amadeo Modigliani.
The painting is at the centre of a long-running legal dispute. Descendants of a Paris-based Jewish art dealer claim it was stolen from them after their forefather, Oscar Stettiner, fled the French capital ahead of Nazi invasion in 1939.
They say Stettiner took his family to the rural region of Dordogne, near Bordeaux, but had to leave behind his collection which was appropriated by a Nazi curator. Valuable pieces were flogged off at a discount. The Modigliani was documented to have fetched 16,000 francs (£2,900) in 1944.
After the war, Stettiner set off to recover the missing artwork. He traced it to a gallerist named John Van der Klip who claimed the panting had changed hands and was finally bought by an unnamed US soldier.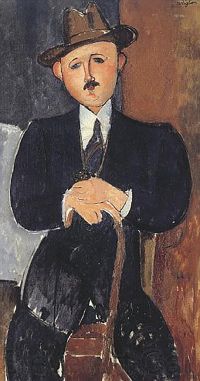 In 1946, Stettiner initiated legal proceedings to reclaim the work but died before the conclusion of the legal battle in 1948. His children never took up his fight and the Modigliani's trail went cold.
In 1996, the work resurfaced at a Christie's auction in London where it was purchased for £2.2m ($3.2m) by a Panama-based company named International Art Center (IAC).The seller was recorded as a descendant of a person identified only as J. Livengood.
According to Le Monde newspaper, Livengood was a relative of Van der Klip, as the gallerist's daughter had reportedly married a man named Edwin Livengood and the couple had a son named John.
The Modigliani remained in the possession of IAC for the next two decades. In 2008 it went up for auction again at Sotheby's but failed to sell. At the time, Stettiner's grandchild, Philippe Maestracci, had initiated procedures in New York to reclaim it.
Maestracci accused the famous art-collecting Nahmad family of unlawful possession of the painting. New York-Based Helly Nahmad Gallery had consigned it to Sotheby's auctioneers, according to The Guardian.
Nahmad's lawyers however dismissed the claim saying the sole owner was IAC. Documents leaked from Mossack Fonseca have now revealed that IAC's sole shareholder is Nahmad family patriarch David.
IAC's incorporation in Panama was used to throw out Maestracci's claim, as Nahmad's lawyers successfully argued that the case should have been served in Panama and not in the US as both the painting and its owner were based there.
Leaked emails obtained by the International Consortium of Investigative Journalists (ICIJ), which includes Le Monde, The Guardian and more than 100 other world media outlets, showed Mossack Fonseca actively helped to conceal ties between IAC and the Nahmads. In particular, it provided a list of directors and officers that could sign legal papers on behalf IAC instead of Nahmad.
Maestracci's case was dismissed in 2015 but he has since refiled another lawsuit in New York's Supreme Court arguing IAC and the Nahmad family were the same entity. David Nahmad's lawyer Richard Golub told the BBC the ownership of IAC was irrelevant in the case, arguing the painting was bought in good faith and Maestracci's claim of ownership had not been proved. "The main thing is what are the issues in the case, and can the plaintiff prove them?" Golub queried.