Residents of Hawaii were panic-stricken after receiving a warning that the US island state was the target of a ballistic missile.
The emergency alert was sent to the phones of locals and tourists with the message: "Ballistic missile threat inbound to Hawaii. Seek immediate shelter. This is not a drill."
The alert which was sent at 8.07am local time (6.07pm GMT) was reportedly accompanied by the sounding of sirens, and was even relayed to a crowd during a football match.
It later emerged that it was a false alarm after the message was accidentally sent in error.
Hawaii Emergency Management Agency spokesman Richard Repoza, told NBC News there was "no missile threat to Hawaii".
A retraction message was sent 38 minutes later.
President Donald Trump was informed of the false alert after which the US military's pacific command confirmed that there was no ballistic missile threat to Hawaii.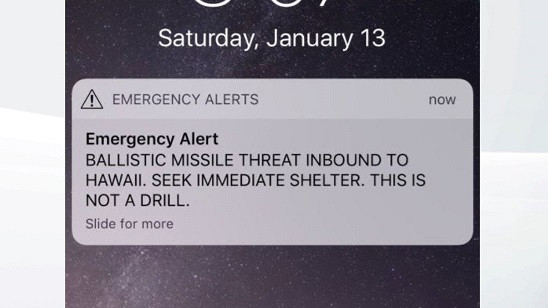 A spokeswoman for US Representative Tulsi Gabbard said she checked with the state agency that issued the alert and was told it was sent in error.
Ms Gabbard then tweeted to Hawaii, in all-caps: "There is no incoming missile to Hawaii. I have confirmed with officials there is no incoming missile."
Writing on Twitter Hawaiian Senator Brian Schatz said the incident that left islanders terrified was "totally inexcusable,"There is no missile threat. It was a false alarm based on a human error, " he said.
"There is nothing more important to Hawaii than professionalizing and fool-proofing this process."
"Again false alarm," he wrote in capitals.
"What happened today is totally inexcusable. The whole state was terrified. There needs to be tough and quick accountability and a fixed process."
According to Sky News, the message was sent as part of the US Wireless Emergency Alerts (WEA) system, which allows authorised national, state or local government authorities to send alerts regarding public safety emergencies.