The recent death of an Australian businessman while parasailing in Phuket, Thailand, has put the focus on the possibility of accidents while enjoying this adventure sport.
The Perth-based businessman Roger John Hussey was on his "dream holiday" in Thailand with his wife when tragedy struck. The 70-year-old plunged to his death while parasailing on Phuket's Kata beach on 12 July, falling more than 100ft into the sea.
Hussey's wife, who was filming her husband's attempt, caught the entire incident on video. It shows the elderly man smiling as he is being strapped to safety gear. But after lift-off, Hussey is seen falling into the shallow end of the sea while his wife and dozens of beachgoers witness the horrifying accident.
A similar incident took place in the US in 2015 when a woman plunged to her death right before her boyfriend's eyes.
"She said she felt like her harness was slipping. I figured she was just nervous," Jonas Hackebeil, who was strapped into a harness next to his girlfriend Dawn Strickland, some 300ft above the choppy Gulf Coast waters, said.
"I turned to see what she was talking about and saw the harness had somehow slipped," Hackebeil said. Before he could help her, Strickland had fallen out of the harness and plunged to her death into the waters below.
She died of "blunt force trauma with drowning," a preliminary post-mortem report said.
What is parasailing and what causes parasailing accidents?
Parasailing is an entertaining activity where a person glides through the air with the help of a customised canopy wing, called a parasail wing, which is fastened to a boat. The adventurous activity is also known as parascending or parakiting.
The activity begins with the pilot being attached to the parasail, which is then secured to a boat. As the boat moves, the parasail takes to the skies carrying the person along. The fun ride allows people to enjoy the view from a height of around 500ft above ground.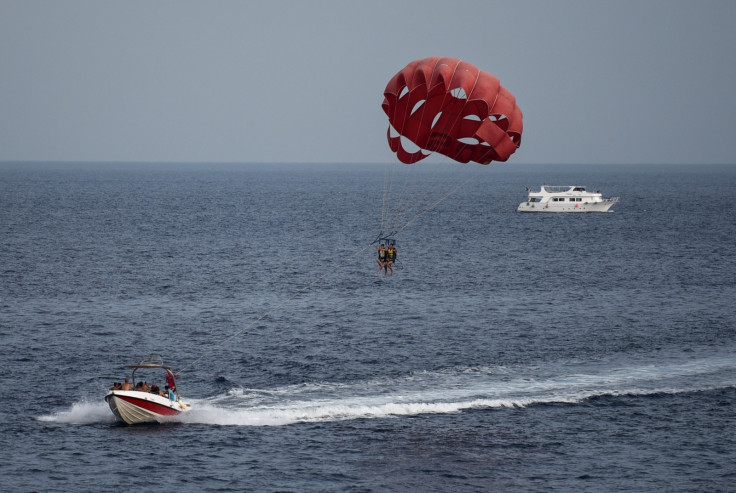 According to a US National Safety Transportation Board (NSTB) report published in 2014, around three to five million people go parasailing every year in the US.
The report had then revealed that there were no federal rules regulating the training or certifying of parasailing operators or the inspection of equipment in the US. Most accidents, it said, were caused by equipment failure, most commonly because of tow line separation from the boat, which results in riders being left adrift or crashing ashore.
Equipment failure, high speed water and deck landings, changing winds and inconsistent boat speed can all cause accidents.
Following an investigation into the parasailing industry and examining eight deaths in the past years, NSTB recommended special licences for operators.
The White-Miskell Act was signed into law by Florida in June 2014, which requires parasail operators to obtain and maintain an insurance policy, to have weather monitoring equipment on board during flights and to cease operations during sustained winds of 20 miles per hour, or wind gusts of 35 miles per hour.
Things to keep in mind while parasailing
Always ensure you go for a parasailing company of good repute, because any kind of adventure sports requires a knowledgeable crew who can make your ride not only more fun but also safe.
Be sure to check the weather. It is certainly not advisable to go parasailing if a storm is approaching or if it is too windy.
Double check the quality of the equipment used for the ride and get familiar with the gear before the ride starts.
It is also extremely important to discuss with your guide on how to communicate with the ground staff while in the air.