A couple's "dream holiday" turned into a nightmare after a man lost his life while parasailing in Phuket, Thailand.
The incident occurred on Wednesday (12 July) when Perth-based businessman Roger John Hussey plunged to his death while parasailing on Phuket's Kata beach. He died after falling more than 100ft into the sea.
The incident was recorded on video since the 70-year-old's Thai-born wife Budsabong Thongsangka was filming her husband's parasailing attempt.
The video taken by his wife shows Hussey smiling while being strapped into safety gear.
It also shows another man along with Hussey, who is not wearing a harness. Both of them are then pulled by a boat before their parachute lifts them up into the air above the water.
However, soon after lift-off, Hussey is seen falling into the shallow end of the sea as his wife and dozens of beachgoers witness the horrifying accident.
He was immediately rushed to a nearby hospital but succumbed to his injuries and was pronounced death after some time.
According to reports, Hussey had breathing problems after being taken out to sea.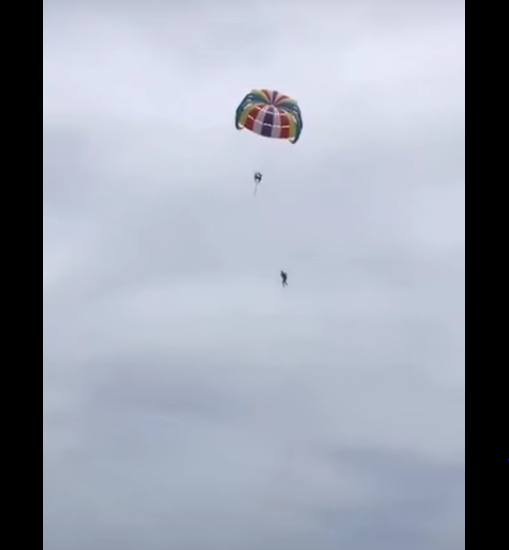 Lt. Col. Suwisit Keereerak, Deputy Chief Inspector of Karon Police Station, has said that they are investigating the case and added that two arrests have already been made – parasailer Rungroj Rakscheep, 38, and boat captain Montein Chandeng, 45.
According to police, the duo said that Hussey had accidentally pulled on a hook that led to him unstrapping his harness, causing him to fall.
Police has also said that "red marks" were found on Hussey's body. It has been sent for an autopsy to establish how he died – whether by drowning or from the impact.
Hussey was a well-known businessman in Australia and had served a number of companies and not-for-profit organisations, including Landgate WA, WA Neuroscience Research Institute and the Bali Eye Foundation, the Sydney Morning Herald reported.
He had also served international fuel giant Shell and his company was worth $250m (£193m).
The latest incident comes months after another Australian tourist, Emily Collie, died on the same Kata beach in a jet-ski crash.
The 20-year-old's boyfriend had later pleaded guilty to reckless driving which led to her death.