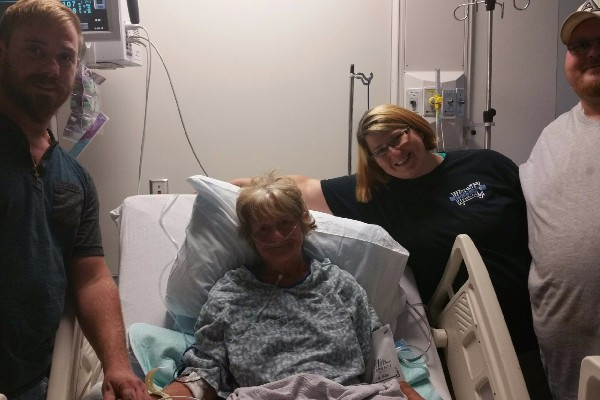 Beachgoers formed a human chain on Saturday (8 July) at Panama City Beach in Florida to rescue nine members of a family.
Roberta Ursrey, her husband, sons and other members of her family were saved from drowning after 80 people formed a human chain to rescue them. The incident took place at around 6:30pm local time (12:30am BST).
Ursrey saw her sons stuck in the water when she and her family paddled in to reach out to them, the report said.
"They were screaming and crying that they were stuck," Ursrey recalled in an interview on Monday. "People were saying, 'Don't go out there.' "
As the current was too strong, all nine of them were trapped in about 15 feet of water.
Ursrey's mother suffered a serious heart attack during the ordeal and almost died. "I honestly thought I was going to lose my family that day," Ursrey told NWFDailyNews.com. "It was like, 'Oh God, this is how I'm going.' "
It might have been, had Jessica Simmons and her husband Derek Simmons not decided to form a human chain.
Simmons, a resident of Alabama, was relaxing on the beach with her husband when she saw everyone looking at and pointing in the direction of Ursrey and her family.
"I automatically thought they had seen a shark," Simmons said. "I ran back to shore and my husband ran over to them... That's when I knew someone was drowning."
The couple instructed nearby people to form a human chain, figuring that if they could connect enough people, they could reach the family and pull them them back safely.
"It started with five people," Jessica said. "Then it started with 15 people, and then it got bigger and bigger and people were just coming in. It was amazing." The chain eventually stretched out to about 100 yards, reports say.
According to Derek, Ursrey and her family were already exhausted from trying to stay afloat when the chain reached them. Using a surfboard and a boogie board from some nearby beachgoers, Derek and Jessica were able to keep them afloat until they could get back to shore.
According to Ursrey, her mother was rushed to the ICU with an aortic aneurism in her stomach from fighting the current. She is currently in Bay Medical Center Sacred Heart in Panama City.
"Without them, we wouldn't be here, because emergency personnel stood on the beach," Ursrey said. "They wouldn't even link up and help. It was the human chain that pulled us out of that water. God's good grace and them is the reason we're here today."