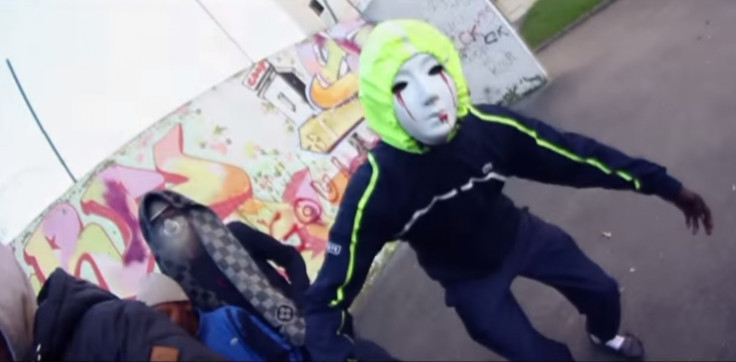 Police in France have opened an investigation into a video clip showing a group of children rapping violent lyrics while flashing a gun and wads of cash in the Paris suburb of Sarcelles.
The viral video by a collective of boys that goes by the name of Sarcelleslite has stirred controversy in the country.
Many, including the local mayor, decried the display of violence and glamorisation of crime by children reportedly aged between 10 and 13, who on the other hand defended themselves by saying they were just having fun.
Titled 1er Pocheton (a slang term for a small bag of marijuana) the video features a dozen children, including two wearing masks, parroting the moves of US gangsta rappers in public spaces around Sarcelles, a multicultural and deprived banlieue north of the capital.
Some are seen doing wheelies on a scooter; others wave a gun and notes ranging from €5 to €50 to the camera, while singing lyrics full of drug references and sexist remarks, with girls referred to only as "b****s" and "s***s".
"Here is the street, always there to make dough. We are here to do big damage," they are heard singing. "We will put a bullet in your head."
Posted on YouTube early in January, the five-minute clip has been viewed more than 210,000 times.
Sarcelles' socialist mayor François Pupponi told BFMTV he was outraged by it.
"I was shocked to see very young boys using words of hate and violence like those," he said.
The clip producer, a 25-year-old identified by local media only by his nickname "le Manouche" (the gypsy), admitted that the language used in the footage was coarse but there was "nothing bad" in it.
"It was just to copy true rappers," he told RMC radio, also claiming that the gun brandished by the children was a replica.
One of the young members of Sarcelleslite told the same broadcaster that the clip was nothing but "a little something to have a laugh, a small pastime".
"We are not what we say in the video," the child said, speaking on condition of anonymity.
Nevertheless, police said they were analysing it as part of a probe into allegations of spreading a violent message and incitement to breaching anti-drugs laws.
They were also checking whether le Manouche had asked the parents of the children for the written authorisation required by law for them to appear before the camera. If found guilty, he faces a stiff fine and up to 18 months in prison.
Known as "little Jerusalem" for its mixed Jewish and Arab composition, Sarcelles featured in national headlines last summer, as it plunged it into chaos when a banned anti-Israel demonstration turned violent.