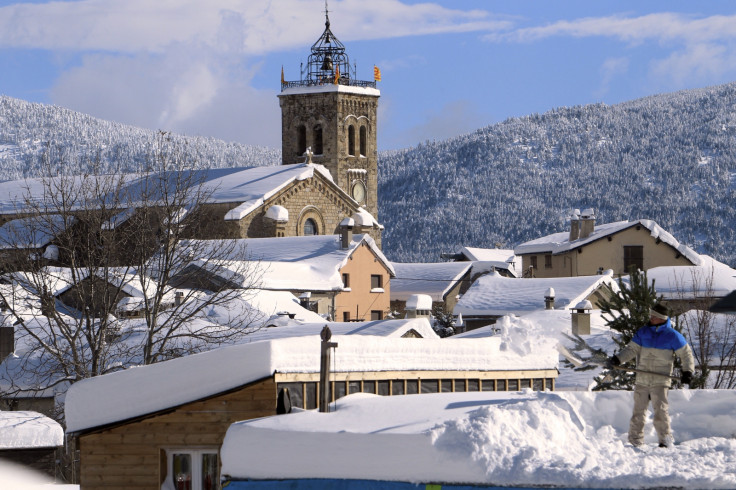 The lifeless body of a young woman was found stuck inside a snow-clearing machine at a French ski resort in the Pyrenees.
Police in Les Angles, near Andorra, said some 20 officers were involved in the investigation into the mysterious death of the 21-year-old woman, who has not been named. The accident came as a shock in the small mountain village of 540 people.
Early in the morning, one of several snowploughs that had been clearing the town's streets broke down seemingly experiencing engine issues.
As the driver went to check his vehicle, he discovered the machine that sucks the snow and spews it out on the side of the road had vacuumed up the young woman's body.
Emergency service was called at the scene but the victim was already dead. The circumstances surrounding the accident and the causes of the death were not immediately clear.
Detectives were trying to ascertain whether she fell unconscious after being hit by the machine or she was already lying on the street when the snow plough passed.
Town mayor Michel Poudade told France Bleu: "It is unlikely that the young woman was hit by the vehicle as she was walking. She would have heard the machine's sound and the driver would have seen her.
"The driver of the vehicle is in a terrible state. Medical services are giving him support. It's terrible. He does not understand [how it could have happened]. "
Early investigations suggested the girl, who reportedly did seasonal work as a waitress in at restaurants in town, had been on a night out in the hours leading to her death, local media reported.
The owner of a local club said she had spent part of the evening there, drinking a lot of alcohol. The man said that since she was very drunk, he decided to give her a lift home, but dropped her off some 50m from it.
The tragedy is believed to have happened shortly afterwards, although at the moment there appear to be no eyewitnesses of it.
A post-mortem examination is due to be carried out at the start of March. The victim was said to be originally from Argelès-sur-Mer, a seaside resort on the Mediterranean some 100km away.