Paris Fashion Week 2014: Ready-to-Wear Weirdest Shows
Vacuum packed models writhing in plastic bags. Stick-on fake fur eyebrows. The world's most exclusive supermarket. Models being strangled by their own hair. These were just some of the sights on show at the women's ready-to-wear collection shows at Paris Fashion Week 2014.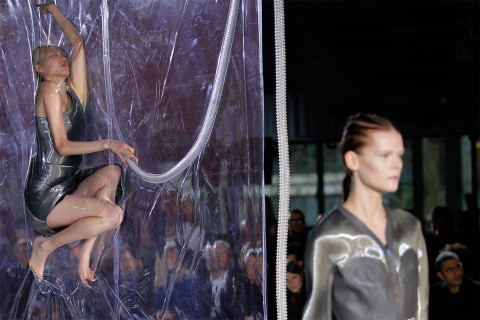 Dutch designer Iris Van Herpen likes to shock. Her show included three models writhing in suspended square plastic bags that appeared to have the oxygen sucked out of them. It disturbed several guests as it looked as if the models were in discomfort or couldn't breathe.
Sarah Burton's show for Alexander McQueen seemed to be channeling scenes from Wuthering Heights, set on an emotive green heath. The patches of long black and white fur and animal eyebrows also made it look like Burton was going for a werewolf vibe.
Karl Lagerfeld created the Chanel Shopping Centre with an entire supermarket reconstructed in Paris' Grand Palais. The shelves were stocked with products especially made for this show including bread stamped with the famous Chanel double-C logo. Large signs advertised Chanel's latest special offers, but instead of discounts they read "50 percent markup".
The set triggered a stealing-frenzy, with security guards having to swoop in as guests stripped the shelves. At the exit, fashionistas' bags were searched to remove stolen goods. One fashion editor reportedly succeeded in making off with a Chanel doormat.