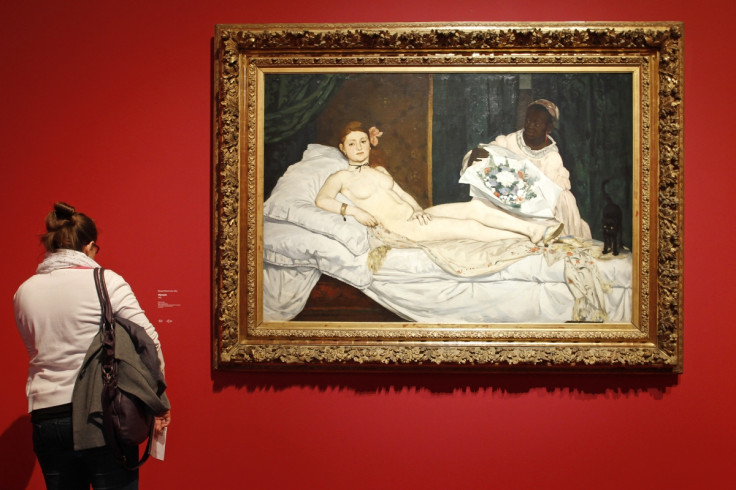 A woman was arrested in France after she posed nude in front of a painting by French artist Edouard Manet called Olympia. Luxembourg artist Deborah de Robertis was arrested for indecent exposure as she lay naked in Paris's Musée d'Orsay where the nude painting of a prostitute is displayed.
De Robertis stripped out of her clothes next to the painting at the museum and replicated the pose of the figure in the art work, which was part of an exhibition titled Splendour And Misery: Images Of Prostitution 1850-1910.
There were numerous museum-goers admiring the works when De Robertis undressed. Security intervened immediately and she was subsequently arrested on 17 January.
"There were many people in front of the painting. Security guards responded well, they closed the room and asked her to get dressed," a spokeswoman for the museum told AFP. "As she refused, the police were called and removed her."
The Luxembourg artist "was wearing a portable camera to film the public's reaction. It was an artistic performance," her lawyer Tewfik Bouzenoune said, following the incident.
The performace artist's works have often shocked audiences. In 2004, she laid naked with her legs spread apart, imitating Gustave Courbet's The Origin Of The World painting which offered a close-up image of a woman's genitals.
"Putting an artist in custody sends a very bad message," said Bouzenoune, criticising a "worrying judicial prudishness". While France has been known to have a more liberal view on sex and nudity, recent times have seen a rise in protests to sex related art.
A sculpture by British-Indian artist Anish Kapoor at the Palace of Versailles dubbed the Queen's Vagina for its sexual overtones was defaced by anti-Semitic graffiti last year. Earlier, in 2014, an 80-ft sculpture by American artist Paul McCarthy in Paris's chic Place Vendome which strongly resembled a sex toy was vandalised. Responding to the deflation of his piece, McCarthy asked, "Does this kind of thing happen often in France?"