Dirty Corner, a controversial sculpture by British-Indian sculptor Anish Kapoor - dubbed "the queen's vagina" - has been vandalised in the gardens of the Palace of Versailles just outside Paris.
The estate's management said: "Damage to the work, Dirty Corner, was discovered Wednesday [17 June] morning. It was lightly sprayed with paint. The work is being cleaned."
The 60 metre-long, 10 metre-high steel-and-rock abstract sculpture resembles a funnel and faces the royal château, which attracts five million tourists a year, reported Agence France-Presse.
Kapoor has described the piece as "the vagina of a queen who is taking power".
It has already drawn opposition with Versailles's mayor François de Mazières tweeting that the provocateur had "slipped up".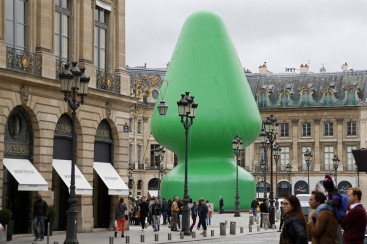 Voices from the blogosphere have also rounded on the sculpture, saying it is inappropriate, while Twitter users have called for for a boycott.
It comes one year after American artist Paul McCarthy's "butt plug" Tree sculpture courted criticism for apparently "humiliating" the French capital.
A total of six pieces by Kapoor will be on display in the palace and its gardens, including "Shooting Into the Corner", which features a canon firing 5kg bundles of red wax against a wall.
Local officials expressed their "indignation" over the vandalism. It was "unacceptable that art, the compass of freedom, suffer because of the obscurantism of some people", they said.