Paris's Place de la Republique has become the focus of tributes to those killed in a series of violent attacks across France.
Hundreds of thousands gathered at the square on Sunday (11 January) for a silent march to pay respect to the victims of Islamist militant attacks that killed 17 people.
The statue of Marianne, who symbolises the spirit of the French republic, has been bedecked with banners and placards. A giant pencil and a black armband have been added to the three figures on the statue's pedestal, representing Liberté, Égalité, Fraternité.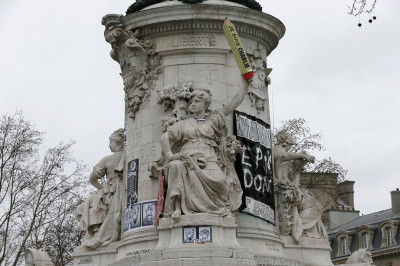 But a closer look at the friezes around the base of the monument reveal many smaller, touching tributes to the victims.
The bronze figures hold pens and pencils, protest placards and flowers, to honour the dead – but also to send out a message: Parisians refuse to live in fear.