Millions of supporters have rallied across France in an unprecedented show of strength condemning the Paris attacks.
Nearly 3.7 million people participated in the nationwide unity rally across the nation, with some estimates suggesting up to four million were present.
No less than 1.6 million supporters took to the streets in the French capital alongside leaders from nearly 50 countries.
Officials say this is the largest demonstration in French history – the previous largest rally being the liberation of Paris after World War II.
With snipers lying on rooftops, about 2,200 security forces guarded the route of the rally, which ran about three kilometres from Place de la Republique to Place de la Nation.
Just before welcoming the world leaders, French President Francois Hollande said in his address: "Paris is the capital of the world today. Our entire country will rise up toward something better."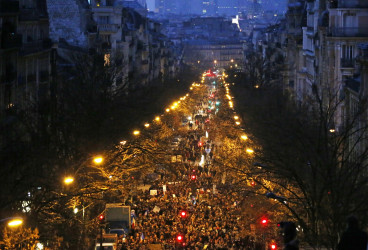 The families of the victims led the rally in Paris flanked by world leaders and dignitaries.
Israeli Prime Minister Benjamin Netanyahu, German Chancellor Angela Merkel, British Prime Minister David Cameron, Italian Prime Minister Matteo Renzi and Palestinian Authority President Mahmoud Abbas are among the leaders who took part in the march.
"I came out spontaneously today because French people have died, and to defend equality, freedom, fraternity, that we rest secular and choose our own beliefs. Our heart is bleeding," one of the participants told Euronews.
Rallies were held in several other French cities as well as in London, Madrid, Brussels and New York.
Once the main rally was over, Hollande met the survivors of the attack and their families while the crowd dispersed in near silence.
Last week's attacks in Paris claimed the lives of 17 people. Two Islamist brothers stormed the building of Charlie Hebdo, the French satirical weekly, after they published cartoons mocking Islam. In a related incident, a gunman attacked a kosher supermarket in Paris which resulted in the death of four hostages.