David Cameron Looks up to Boris Johnson, Says Mayor's Sister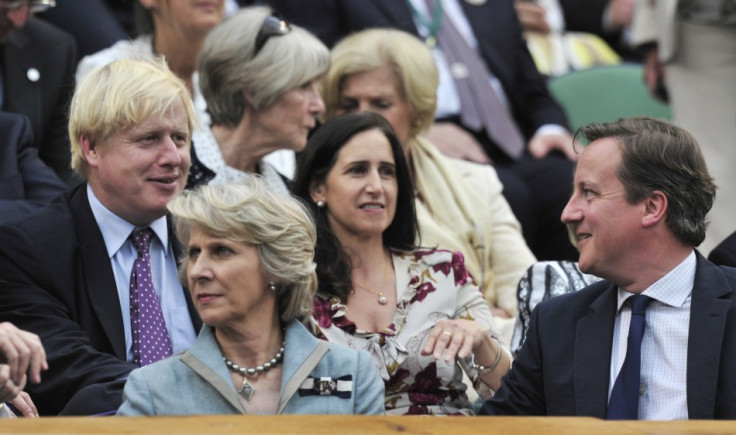 London mayor Boris Johnson has declared again that he has no chance of becoming prime minister.
Johnson admitted to the BBC that he would love the chance to lead the government but told a documentary film team: "I think it's a very tough job being prime minister.
"Obviously if the ball came loose from the back of a scrum - which it won't - it would be a great, great thing to have a crack at it. But it's not going to happen."
Johnson has continuously been linked by speculation to the job of PM - often by himself. The rumours heightened during and after the 2012 London Olympic Games.
Johnson was mentioned so frequently as a potential leadership candidate of the Tory party that it seemed a matter of "when" not "if" he would try to depose David Cameron.
Government ministers were forced to publicly endorse the prime minister against growing backing for Johnson.
Opinion polls found Cameron trailing Johnson with voters on eight counts - including charisma. Johnson's speech to cheering crowds after the Games put Cameron, who also delivered an address, in the shade.
But Johnson's ambition for the job held by his former Oxford University pal will not be dampened by claims that Cameron still doffs a cap to him.
The mayor's sister, Rachel Johnson, said: "When they're together it's rather sweet, because David Cameron - even though he's taller - looks at Boris as if he's still head boy at Eton,"
"Remember, Cameron was two years younger - the young pup."
Lasy year, Cameron called Johnson "a Tory titan" during an TV interview on Daybreak and insisted he wanted the mayor to be "as ambitious as possible".
Johnson has also opened up about his time in the notorious Bullingdon Club at Oxford University, of which Cameron was also a member.
Besuited members of the club trashed restaurants during riotous nights out. An old picture of Johnson and Cameron posing with future chancellor George Osborne caused embarrassment for the government by fuelling Labour party claims that it is out of touch.
Johnson's lust for power began at an early age, revealed his sister. She said: "As Boris was growing up whenever anyone asked him what he wanted to be, he would answer 'world king'."
© Copyright IBTimes 2023. All rights reserved.