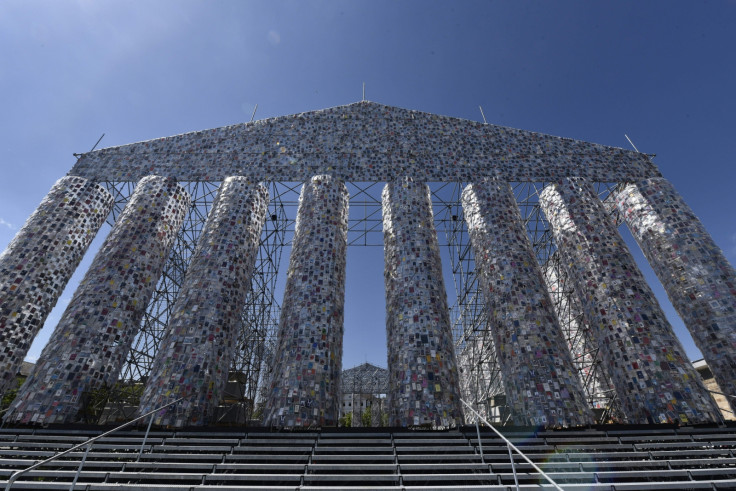 A replica of Greece's iconic Parthenon temple made out of banned books has been built at an infamous Nazi book-burning site in central Germany as part of a debate about censorship.
"The Parthenon of Books" is being covered with some 100,000 donated tomes of about 70,000 titles that have been or remain banned in countries all over the world.
It has been erected in the university town of Kassel as the main showpiece of this year's Documenta – a contemporary art show held once every five years.
Made to look like the temple that stands at the Acropolis in Athens, the replica was designed by Argentine artist Marta Minujin and built in Friedrichsplatz – a square where Nazis burned books by Jewish and Marxist writers in 1933.
The books covering the artwork's columns include George Orwell's Animal Farm, Karl Marx's Communist Party Manifesto and the Satanic Verses, which saw British-Indian author Salman Rushdie receive death threats and go into police protection.
Adolf Hitler's Mein Kampf – banned in several countries and perhaps Germany's most controversial book – will not be featured on the Parthenon, however.
Like pornographic works, the book, which outlines the ideology that formed the basis of Nazism, has been deliberately left out of the exhibition, AFP reported.
Minujin, 74, a pop art icon in South America, said the Parthenon of Books is intended as a "tribute to democracy" and a "symbol of opposition to the banning of writings and the persecution of their authors".
"Democracy without books is not democracy," she said.
Pierre Bal-Blanc, one of Documenta's curators, told AFP: "The work has exactly the same dimensions as the Parthenon – 70 metres (230 feet) in length, 31 metres in breadth and 10 metres in height."
The Frenchman said the art installation also has a "slightly slanted orientation which gives a more impressive presence, because you get a side view of it rather than a frontal view".
Minujin's artwork echoes an almost identical piece she built to mark the fall of Argentina's dictatorship in 1983.
"El Partenon de Libros" saw the construction of another Parthenon, this time made of books banned by the ruling junta. After five days, two cranes tipped the structure on its side, allowing the public to take the books home.
Visitors to Documenta's Parthenon will also be able to take the books used in its construction at the end of the exhibition, which runs from 10 June to 17 September.
The Parthenon of Books is "a monumental project but an immaterial one", said Bal-Blanc. "It will disappear just as quickly as it has appeared."
This year's Documenta, which attracted almost a million people when it was last held in 2012, will feature works from 160 artists. A simultaneous festival will be held in Athens.