Following on from a couple of images Sony Pictures released via Entertainment Weekly back in August, the studio has unveiled the first official poster for upcoming sci-fi romance Passengers starring Chris Pratt and Jennifer Lawrence. While it may not give all that much away as to what fans can expect from the movie, its arrival suggests that an eagerly-anticipated first trailer might be well be on the [event] horizon...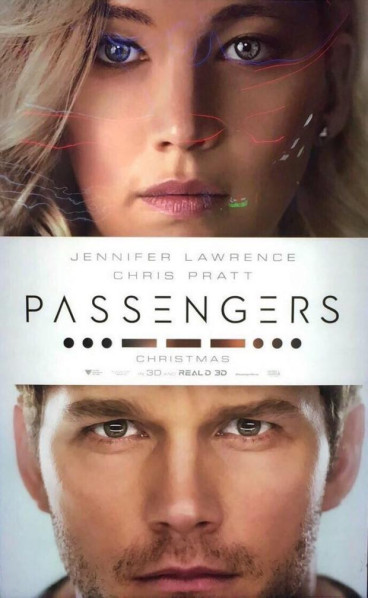 As you might have guessed given the futuristic looking artwork, Passengers takes place on a luxurious interstellar spacecraft which is part way through a 120-year journey to its destination, Homestead II. Due to the lengthy travel time, all 5,000 people aboard the ship are supposed to be in suspended animation but when an incident rouses one passenger named Jim Preston (Pratt), he believes he'll be stuck travelling alone.
That is, until he discovers Aurora (Lawrence), who has also been awakened and the pair begin to fall in love just as they discover that the ship is malfunctioning and endangering its entire population.
Tying in with director Morten Tyldum's confession that the movie is as much, if not more, "character drama" than action blockbuster, the poster concentrates on Lawrence and Pratt's characters – with zoomed-in looks at their faces and eyes. "For me, it's a story about what's important to live a full life," the film-maker told EW recently. "It's not afraid to entertain, but at the same time, it asks big questions about what does it mean to really feel happy. Every generation has its love story. I feel like this is it. I had to do it."
While the poster may seem straightforward and plan, Lawrence's Aurora seems to have an electronic effect over her image while Pratt's doesn't. Could this hint at something that will happen in the movie? Only time will tell... Also starring Michael Sheen and Laurence Fishburne, Passengers is scheduled to reach US cinemas on 21 December 2016. It will be released in the UK on the 23rd.
For more entertainment news follow A-List on Twitter @Alistinsider