We all knew Paul Lambert's move to Aston Villa represented his biggest test in management. With no disrespect towards Wycombe Wanderers, Colchester United and Norwich City, Villa, with seven top flight league titles, a European Cup to their name and 25 consecutive years in the top flight behind them, represent one of English football's most prestigious club sides.
After a horrid season under Alex McLeish, who gave a new meaning to negative strategy, which almost culminated in the club's first relegation for four decades, Lambert, who had guided Norwich to 12th in his maiden managerial season in the Premier League, was thrown into the breach with much optimism.
Those supporters who had sought to avoid McLeish's tears inducing football last season returned in the early months of the campaign, as did impressive performances at Newcastle United and at home to Manchester United.
But results haven't following and amid continued accusations over the youthfulness and naivety of Lambert's cohorts, Villa are deep in a relegation battle one point above the drop zone and with one win in nine games.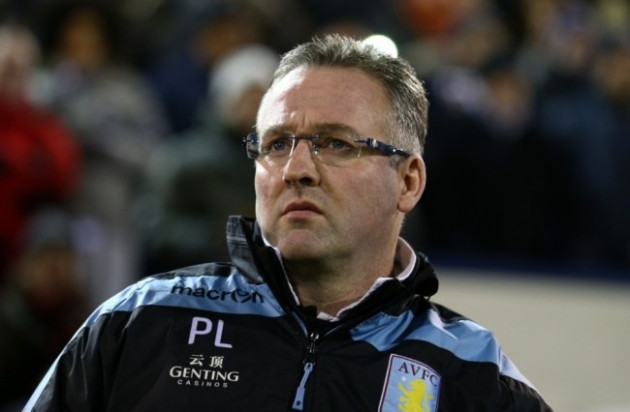 The League Cup had offered some much need respite from domestic challenges, with heavy wins against Manchester City and Norwich working to provide optimism that a change of fortunes could be masterminded.
Those aforementioned wins in particular came in no lose situations for Lambert; two sides whose league position suggested Villa were overwhelming underdogs. Their Glaswegian manager could afford to be bold.
However, following their exit at the hands of League Two side Bradford City, themselves a stark reminder of how even the biggest sides can fall from grace, Villa's embarrassing campaign has taken a twist which could be fatal for their Premier League survival chances.
The accusation most often thrown at Villa this season, bar their average age, is how performances have lacked direction, poise and purpose with the side representing anything but a cohesive unit and merely players throw together in a miss-mash formation.
At least with the League Cup as a focus, the players had a positive cause at which to unite while they fought off opposition from above their station. Without, following a humiliating and at times, toothless exit at the hands of the Bradford, the competition and a potential Wembley final as a carrot for Lambert's squad you worry when an already fragile side go next. The same goes for the supporters, who while they showed belief on Wednesday night until James Hansen headed in for The Bantams, their faith may dwindle just like attendances have.
They've been encouraging if not successful in a good cause, but as their league form has already shown, have struggled against adversity in the Premier League. The squad is not experienced, nor built for a relegation battle and Lambert's albeit shrewd signings look like paling into insignificance with Villa's immediate future set for the second tier.
January signings, while Queens Park Rangers and Newcastle United have been exploiting the French market, have been conspicuous by their absence, leaving Lambert with the biggest test in his managerial career.
He's not short of talent or imagination, but more the fundamentals required to build the foundations of a side; character, drive and resolve, entities that money cannot buy.
One of English football's most decorated sides could represent Lambert's defining moment in football management; not the affect to his reputation he was hoping.