Paul Lambert has revealed his disappointment with Norwich City chairman Alan Bowkett's decision to go public with his decision to sue The Cannaries.
During a supporters' forum at Carrow Road on Thursday evening, Bowkett revealed to the 130 attending fans that Lambert was seeking compensation following his departure to Aston Villa in the summer
Villa paid no compensation to Norwich concerning their move for Lambert after he resigned from his managerial post, and Bowkett claims he is sueing the club.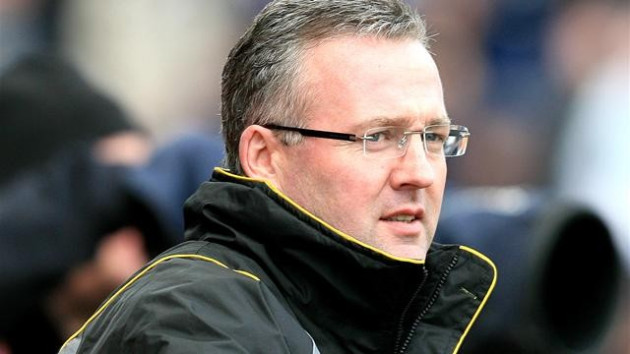 "The manner of Paul Lambert's departure is no surprise because he's walked out on every club he's ever managed," Bowkett said.
"You can't complain because you know what you're getting but I felt he could have left in a more dignified manner.
"He walked out on us - Aston Villa said he was a free agent so they are not paying us compensation, which we take issue with.
"However, interestingly Paul Lambert is taking Norwich City to an industrial tribunal for unfair dismissal and breach of contract, and he wants £1.5m to £2m from us. So we look forward to those tribunals."
Lambert masterminded two successive promotions from League One and the Championship, before guiding the club to a 12th place finish in the Premier League during his tenure at the club.
However, his departure to Villa Park was a chaotic affair, with Lambert having his resignation rejected, but the Villians then swooped for the 43 year old as he left in acrimonious circumstances.
The former Wycombe Wanderers and Colchester United boss says he is worried his reputation with Norwich fans will now be tarnished, given Bowkett's 'one-sided' account of events.
"I'll let him (Bowkett) say what he has got to say and we'll see what happens," Lambert said. "It will go before the Premier League managers' tribunal."
"I'm extremely disappointed that senior officials at Norwich have made comments in relation to myself," the former Celtic and Borussia Dortmund midfielder responded.
"The LMA are acting on my behalf. They supported me at the time and still are.
"What Norwich haven't made public is that they are suing me. It is disrespectful and wrong to that tribunal for me to comment any more.
"That's the way I'm going to leave it. My main concern is Aston Villa."
He added: "Am I concerned Norwich fans are only hearing one side of the story? In a word, 'yes'."