Ukip will be the "guard dog" of Brexit and watch Theresa May closely during the two-year-long Brexit negotiations with the EU, Paul Nuttall said on Monday (27 March).
The Ukip leader made the vow just two days before the prime minister plans to invoke Article 50 of the Lisbon Treaty and trigger divorce talks with Brussels.
"While we will be willing Mrs May in succeeding to agree a full Brexit on our terms, we want her to keep the faith of the will of the British people as expressed in the referendum result last June," he told a press conference in London.
"We will also be letting her know that the political price that she will pay for backsliding or watering down the ambitions will be very high indeed. I have described this role as akin to being the guard dog of Brexit.
"After more than 20 decades of resisting us, the Conservative Party has now declared itself to be a Brexit party too and as a party of government it has a unique privilege of implementing the will of the people."
The North West MEP unveiled "six key tests to prove Brexit means exit" to "concentrate the mind" of May and her ministers. The demands include wholly removing the UK from the jurisdiction of the European Court of Justice and the government making sure it meets its "tens of thousands" net migration pledge.
Ukip campaigned on a promise to slash net migration to 50,000 per year at the 2015 general election, but Nuttall failed to answer if he had relaxed Ukip's position on the immigration issue when quizzed by IBTimes UK.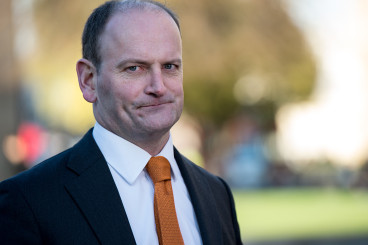 However, Ukip Brexit spokesman Gerard Batten did admit to IBTimes UK that his plan to repeal the 1972 European Communities Act, rather than triggering Article 50, would require another act of Parliament and therefore another vote in the House of Commons and Lords.
"Paul Nuttall's speech today was a blueprint for a hard Brexit that will leave working families worse off," said Labour's Chuka Umunna, chair of Vote Leave Watch.
"For Ukip to make this reckless call for Britain to trade with the EU under World Trade Organisation rules only is the height of irresponsibility.
"This would impose crippling tariffs on our exports and imports to and from Europe, hitting businesses, putting jobs at risk, and raising prices in the shops.
"We need a trade deal with Europe that delivers the 'exact same benefits' as Brexit Secretary David Davis has promised – that means the government should seek to keep our single market membership. Anything less will do untold damage to our economy."
Nuttall's speech follows Douglas Carswell's resignation from the party on Saturday. The Clacton MP defected from the Conservatives to Ukip in 2014 and there was a by-election for the Essex seat. But Carswell claimed he did not need to make such a move this time around because he plans to sit as an independent in the Commons.
"I will not be switching parties, nor crossing the floor to the Conservatives, so do not need to call a by-election, as I did when switching from the Conservatives to Ukip. I will simply be the Member of Parliament for Clacton, sitting as an independent," he wrote.
Nuttall insisted, as Nigel Farage listened on, that "Ukip isn't going anywhere". He added:"I stand here as leader of a party that came third in the popular vote at last election."