Paul Nuttall: Ukip leader reveals by-election battle plan for Brexit capital
EXCLUSIVE: Nuttall speaks to IBTimes UK about Brexit, NHS and Donald Trump.
"I want to replace the Labour Party and make Ukip the patriotic voice of working Britain," Paul Nuttall declared as he succeeded Nigel Farage to become Ukip's new leader in November.
The Merseyside-born politician now has a chance to act on those words thanks to fellow historian Tristram Hunt.
The former Labour MP for Stoke-on-Trent Central quit the House of Commons to become the director of the Victoria and Albert museum in London.
Hunt won a majority of more than 5,000 votes at the 2015 general election and pushed Ukip into second place.
But just over a year later 69% of Stoke residents defied Hunt's pro-Remain position and backed Brexit at the EU referendum.
Labour's candidate for the Stoke-on-Trent Central by-election, Gareth Snell, colourfully described the UK's decision to split from the EU as a "massive pile of "s**t".
Nuttall plans to capitalise on Snell's disdain for the Brexit vote and Labour's inconsistent immigration policy to win the Staffordshire seat.
But, like Hunt, he is from out-of-town and Labour claim he has been "parachuted in", a charge Nuttall disputed when interviewed by IBTimes UK.
"[The people of Stoke] want someone who speaks their language, tells them how it is, is straight talking, is from a similar sort of post-industrial town to this, understands the issues, understands their trials and tribulations and can really connect with them," he said.
'Divert foreign aid budget to NHS'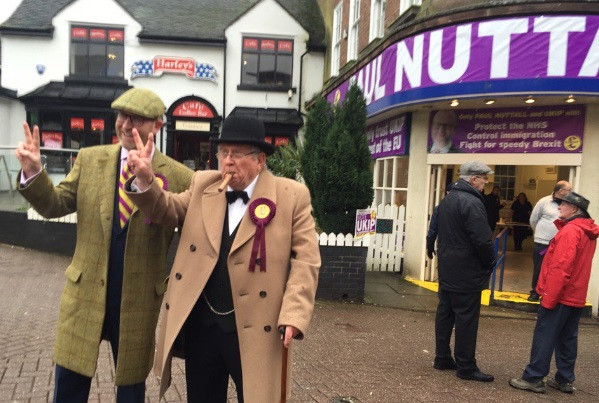 Paul Nuttall poses with a Winston Churchill lookalike
IBTimes UK
Labour has also launched a so-called "attack ad" against Nuttall based on his 2011 comments on the NHS.
The video shows the Ukip leader calling for "more free market" to be introduced into the health service.
But Nuttall has hit back, branding Labour the party of "MRSA [the super-bug], the Mid-Staffs crisis [a hospital scandal] and of £80bn ($100bn) private finance initiative (PFI) contracts".
"I'm not going to be lectured to on the NHS by Labour," he said. Instead, Nuttall wants a "short, sharp burst of cash" for the health service.
"What's going on is the same old groundhog day thing we get every single year, where you pick up a newspaper every January or February and you can be sure that you will be reading about the NHS funding crisis. It needs more money," he warned.
The Eurosceptic would "slash" the majority of the UK's £12bn foreign aid budget and spend the savings on the health service.
"I'm not opposed to giving foreign aid to countries that have real crises, but I am opposed to handing over foreign aid to corrupt regimes, countries which are purchasing large amounts of arms, countries which are richer than ourselves," Nuttall said.
Beat Suzanne Evans to become Ukip's new leader in November.
Served as deputy leader under Nigel Farage.
Named 85th most influential right-winger in 2015.
MEP for the North West of England since 2009.
Has failed four times to get elected to the House of Commons.
Former history lecturer at Liverpool Hope University.
Born in Bootle, Merseyside.
India and China, which have their own space programme, have long been go-to examples for Ukip and the right-wing British press.
The Department for International Development said in 2015 that it would stop giving financial aid to those countries.
But the Independent Commission for Aid Impact watchdog reported in November that the UK is continuing to give the countries indirect help.
IBTimes UK also quizzed Nuttall about his stance on refugee policy. The Ukip leader has controversially backed Donald Trump's stance on torture. Does he also support "extreme vetting" of refugees?
"Trump was wrong when he spoke about banning Muslims coming to America during the referendum," he said.
"However, we have to be careful about who we let into this country in terms of if they're coming from certain countries ... and they have to be vetted to make sure that they are not posing a terrorist threat.
"The safety of our people has to literally trump — pardon the pun — everything."
Nuttall spoke to IBTimes UK just minutes before he launched his campaign headquarters in Hanley. The shop, covered in Ukip's bright purple branding, dominates the town's centre.
It is a statement of intent from the self-styled "People's Army", with one senior Ukip source saying that the by-election is "as big as the general election" for the party.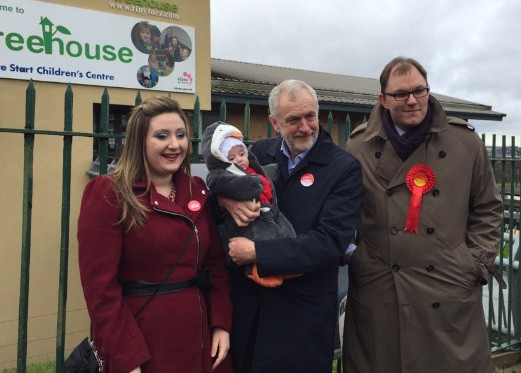 Jeremy Corbyn (C) and Gareth Snell
IBTimes UK
Corbyn and Snell snub media in Stoke
But Ukip have only won by-elections where their candidates were incumbents, notably Douglas Carswell's 2014 defence of Clacton and Mark Reckless' victory in Rochester and Strood in the same year after defecting from the Tories.
The Oldham West by-election in December 2015 even saw Labour increase its share of the vote in the face of Ukip opposition.
So despite bookmakers' bullishness about Nuttall's chances, with Ladbrokes and William Hill putting him favourite, the Ukip leader is still the underdog in Stoke.
But despite Labour's advantageous position, the media was barred from speaking to Corbyn and Snell, who described his leader as an "IRA-supporting friend of Hamas" during the last Labour leadership election. The pair posed for campaign pictures outside a Sure Start centre in Stoke.
Labour's Ruth Smeeth, the MP for the neighbouring seat of Stoke-on-Trent North, would speak to us, however.
"[Nuttall] knows nothing about our city," she told IBTimes UK. "Gareth does, he lives here with his wife and daughter and we're here to fight for every vote to make sure we have a Labour MP."
Smeeth also defended Snell's now infamous "pile of s**t" tweet, describing it as a moment of "frustration".
"What's not been reported are the tweets before and the tweets afterwards," she argued.
"And what he was being really clear about, in context, is that Theresa May didn't have a plan and we still don't know the details of her plan until next week. We are determined that Stoke won't be left behind."
The Stoke-on-Trent Central vote will be held on the same day as the Copeland by-election on 23 February. Labour is defending both constituencies.