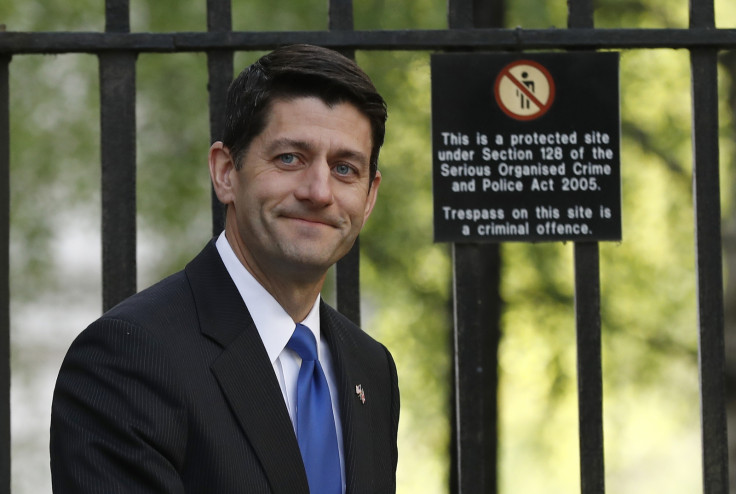 In an address to UK think tank Policy Exchange on Wednesday (19 April), US House Speaker Paul Ryan spoke about the special relationship between the US and the UK and wished the UK luck on the upcoming general election. Ryan also praised Prime Minister Theresa May for "setting the standard" on "bold leadership".
"Times like these call for bold leadership, and Theresa May is certainly setting the standard," Ryan said. The House speaker called news of the upcoming general election a "historic event" but joked that British politicians would not receive much sympathy from the Congressional delegation.
"Ultimately, it is up to the British people to decide their political future - as only they can," Ryan noted. "And honestly, as my colleagues can attest, we Americans have enough on our plate . . . so I will simply say, 'Good luck and please know that, no matter the outcome, the United States will proudly stand by your new government."
Ryan remarked on the special relationship between the two countries and said Americans shared the pain and mourned the victims of the attack in Westminster.
The House speaker argued "radical Islamic terrorism" targeted innocent individuals in order to divide people and pit them against one another. "America knows this horror all too well. We've seen it in New York and Boston ... in Orlando and San Bernardino ... in Texas and in a field in Pennsylvania," he said.
"We will not let that happen. We cannot let that happen," he said. "The way we defeat this scourge of evil is by working hand-in-hand. By strengthening military and counterterrorism cooperation. By winning the battle of ideas. By demonstrating how our ideals of freedom, compassion and peace will always prevail over violence and hate."
Thanked for Syria support
Ryan also thanked the British government for standing by the US after President Donald Trump launched an airstrike against Syria's President, Bashar al-Assad.
Calling President Trump's decision to order the attack "appropriate and just," Ryan said the strikes "demonstrate our resolve and refusal to stand on the sidelines as Assad slaughters his people — and their children — with the cruellest weapons known to man."
Ryan argued that Assad's "enablers," Iran and Russia, should be held accountable. "Iran and Russia are complicit in these crimes against humanity," he said. "But that's not all. Russia is determined to exploit weakness and opportunity wherever it may surface.
"So let's be clear: The actions of Russia are not the actions of a friend. We cannot allow a provocateur in Moscow to threaten our allies or interests. This is a direct affront to the post-Cold War global order," he continued.
In order to protect the US, UK and their allies from aggression, Ryan said a strong Nato alliance was "essential". "It has been and remains critical to the safety and security of the United States, Great Britain and the world," he said.
Ryan noted that the UK and the EU needed to determine the "best path forward" now that Article 50 has been triggered. He promised that President Trump and Congress would work with the British government to achieve a bilateral trade agreement.
According to Reuters, Ryan's visited Britain with a bipartisan delegation of lawmakers for a trip aiming to reassure European allies of America's commitment to the Nato military alliance.