Donald Trump and Theresa May have agreed to postpone the president's state visit to the UK until October in the hope that protests against the US leader and his controversial policies will have died down.
Trump's visit was originally set to take place in June following a phone call with the British prime minister in January. According to The Sun, the trip is now expected to take place in October – before Parliament returns from recess.
"Trump still really wants to come this year, but he wants the heat to die down a bit first," a senior UK government source told The Sun. "The White House watch what happens over here surprisingly closely, and they don't want to create a scene for our sake either."
The Stop Trump Coalition hailed the thousands of people across the UK who had protested against the US leader for making their voices heard and vowed that the vociferous opposition would only get louder.
"Trump's visit will be delayed until at least October to 'let the heat die down'. But we promise that it's only going to get hotter," the group said in a statement.
"The opposition to this state visit, and to Trump's policies, is growing every day. Whether he comes in Spring or Autumn, or to London, Birmingham or Scotland, we will meet him in huge numbers to say that the politics of hate and prejudice are not welcome here.
"Theresa May has badly miscalculated. The British people don't want this racist, misogynist billionaire anywhere near them. At the same time as showing our support to all the people in the USA battling this dangerous president, we will also show our own prime minister that she has no mandate to draw us closer to Trump or the other extreme right-wing leaders she is currently courting."
Trump's Autumn visit to the UK is provisionally scheduled for 5 October to 8 October – although the dates could change again. However, Downing Street insisted that a date had not been set for the visit and talk of an October trip was speculation, according to Sky News.
The timing of an Autumn visit would open the door to a potential meeting with the British monarch at her retreat at Balmoral in Scotland – reportedly a keen hope of the president. It would also allow Trump to avoid the embarrassing prospect of addressing protesting MPs.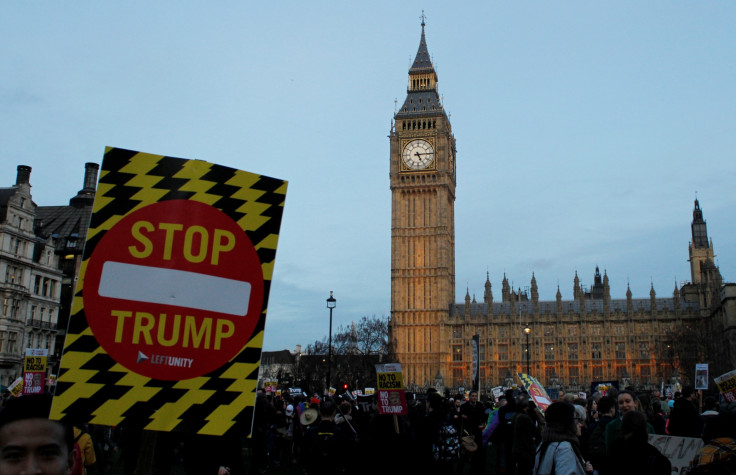 British lawmakers have been at loggerheads over whether Trump should be given a state visit. A petition calling for Trump to be denied an official state visit – but still allowed into the UK in his capacity as head of the US government – garnered over 1.8 million signatures.
In a three-hour debate over the issue last month, MPs heaped scorn on "racist and sexist" Trump and the lingering image of May holding hands with the US president during her visit across the Atlantic to rekindle the UK-US 'special relationship'.
"As an example of fawning subservience, the prime minister holding hands [with Trump] would be difficult to match," former Scottish first minister, Alex Salmond, said. "To do it in the name of shared values was stomach churning.
Opposition leader Jeremy Corbyn said: "Trump should not be welcomed on a state visit to this country while he continues to propagate his anti-women, anti-Muslim and anti-Mexican policies."
Commons Speaker John Bercow attracted controversy after saying he was "strongly opposed" to letting Trump address Parliament, citing his "racism and sexism".