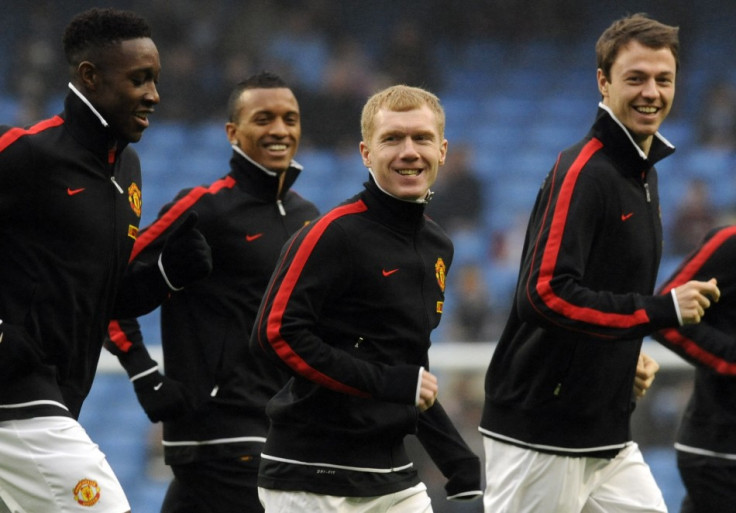 Sky Sports pundit Ray Wilkins has praised Manchester United boss Sir Alex Ferguson for coercing Paul Scholes out of retirement.
The 37-year-old completed his shock return to Manchester United on Sunday and subsequently emerged as a substitute during the Red Devils' 3-2 victory over their bitter Premier League rivals Manchester City in the FA Cup third round.
The Manchester United veteran was culpable for City's second goal but that aside, the evergreen playmaker rolled back the years with a typically eye-catching performance that illustrated the midfielder's unerring ability to retain possession.
According to Opta, the Manchester United icon made more passes than any Manchester City player in the entire game and completed 97% of them throughout, to underline Sir Alex Ferguson's desire to bring the Old Trafford legend out of retirement.
Wilkins believes Scholes' return to Manchester United is the equivalent of Ferguson lavishing £25 million on a new player given the midfielder's lasting pedigree. The former England captain suggests Scholes offers his side a tranquillity and "a piece of mind on the pitch".
"It's the equivalent of getting a £25million player in January," Wilkins said of the Manchester United midfielder's shock return.
"OK, he came on yesterday and gave the second goal away. But the peace of mind he gave the players. When Paul Scholes comes into the field of play, and I think Sir Alex will use him sparingly, he gives them a piece of mind on the pitch and you can't buy that.
"He had more touches of the ball in 30 minutes than every Manchester City player and all but two of the Manchester United players." Wilkins told Sky Sports. "It was so evident that when on the pitch, nobody could give him the ball quick enough.
"He adds a serenity to Manchester United and I think that's very evident. When he wasn't there there wasn't that serenity - they played with breakneck speed from minute one to minute 90.
"As big a problem as Manchester City have in losing Yaya Toure to the African Cup of Nations, Manchester United have just gained a world-class footballer."
Scholes has won ten Premier League titles with Manchester United during his remarkable Old Trafford tenure a nd he admitted on Sunday that he regretted his decision to retire at the end of last season.
Scholes told Manchester United's official website: "I've been pretty clear since I stopped playing that I miss it. I'm delighted the manager feels I can still make a contribution to the team and I'm looking forward to playing my part in trying to bring more success to this great club."