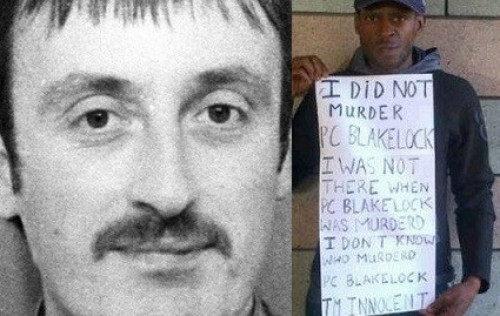 A man accused of being part of a gang which killed PC Keith Blakelock during the 1985 Broadwater Farm riot has been found not guilty of his murder.
Nicky Jacobs, who was 16 at the time, has been cleared of the killing which occurred during the disorder at the Tottenham housing estate. He was accused of being part of the gang which stabbed Blakelock more than 40 times while shouting "kill the pig".
Jacobs, 45, was found not guilty after a judge ruled he would accept a majority decision from the jury. Jacobs chose not to give evidence in his defence during the trial at the Old Bailey.
The jury heard how Jacobs was alleged to have written a rap boasting about how he and the armed gang had "chop him all over" during the 1985 riots.
The poem, read out to the court, continued: "We start chop him on his hand, we chop him on him finger, we chop him on him leg, we chop him on his shoulder, him head, him chest, him neck, we chop him all over, when we done kill him off lord we feel much better. Me just wipe off me knife and go check on daughter."
However, his defence said that the account Jacobs gave in his rap did not coincide with the post-mortem examination of Blakelock's body.
Courtenay Griffiths QC told the jury: "Bob Marley wrote I Shot The Sheriff but I have not heard of him being put on trial for murder."
The defence also questioned the credibility of some witnesses who said they saw Jacobs hack at the body of the officer "around four or five" times using a machete.
Jacobs denied murdering the officer. Before the trial began, he was photographed holding a poster proclaiming his innocence.
The poster, which contained spelling mistakes, read: "I did not murder PC Blakelock. I was not there when PC Blakelock was murdered. I don't know who murdered PC Blakelock. I'm innocent."
The violence at Broadwater Farm erupted following the death of Cynthia Jarrett, who collapsed and died of a heart attack as police searched her home looking for stolen goods following the arrest of her son.
Blakelock was killed as he tried to protect firefighters tackling a blaze in a supermarket. The court heard how he was among a number of officers who were set upon by an armed mob.
The Metropolitan Police said it will not give up the search for those responsible for Blakelock's murder.
Assistant commissioner Mark Rowley said: "Sadly, Keith's widow, family and friends still have not seen anyone brought to justice for his murder. The dignity, extraordinary patience and courage they have shown in their nearly 30-year quest for justice is humbling.
"We will not give up on bringing Keith's killers to justice. There are people who know exactly who took part in the attack on Keith and people who took part themselves. It is not too late for you to come forward. Almost 30 years on peoples' lives are very different, their allegiances broken or shifted. Help us now."
Winston Silcott, Mark Braithwaite and Engin Raghip were convicted of Blakelock's murder in March 1987, but all three convictions were quashed four and a half years later.