A crowdfunding campaign has been launched to resurrect the derelict Peckham Lido in south-east London into a heated outdoor Olympic-size swimming pool. Organisers hope to raise £60,000 to help transform the site, formerly known as Peckham Rye Lido, with backers having already pledged more than £2,000 within hours of the campaign being launched on Friday (13 May).
The plans – described as a "mix between old and new" – would also see a separate natural pool built for wild swimming, tapping into the buried River Peck that flows beneath. An outdoor cinema, rooftop 'beach', sunbathing areas and restaurant would also be built, along with a gym and yoga/dance studio.
The old 50m lido, originally open from 1923 to 1987, is currently buried beneath overgrown grass in Peckham Rye Common. Having once served swimmers and sunbathers of south-east London for more than 50 years, it fell into disrepair since being closed down.
In 2014, thousands of people signed a petition, set up by local property developer Ben Lloyd-Ennals, calling for the council to reopen the lido. The campaign was backed by local MP Harriet Harman.
The initiative has since enrolled architects Studio Octopi, who designed the Thames Baths concept that last year raised more than £140,000. The company has now mocked up plans to transform the site.
"We think it's time to bring the lido back again," the crowdfunding website states. "And we're not alone. Up and down the country, from Saltdean to Tarlair, many of Britain's lidos are coming back to life. We think south-east London should be part of this great movement to bring outdoor swimming and sunbathing back."
A spokesman for Studio Octopi told IBTimes UK the venture would be a "community pool" with swimmers paying a low-cost entrance fee in line with other lidos across London.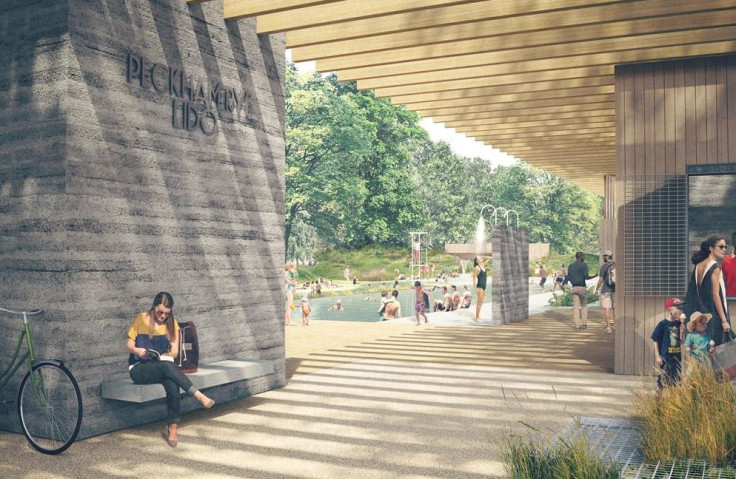 The venture has received the support of Southwark Council, which owns the land for the proposed site. Should the crowdfunding target be reached by the end of July, a planning application would then be submitted.
Those behind the campaign also aim to offer the swimming facilities to local schools and clubs. They said: "It brings a Olympic-size pool for local schools, swimming clubs & the local community. If the next Michael Phelps or Rebecca Adlington lives in Peckham, we would never know without a facility like this.
"It breathes new life into changing area of London, creating at least 40 full- and part-time jobs that would suit a range of skill sets and qualifications – including lifeguards, personal trainers, yoga teachers, admin staff, managers, chefs and waiters."
The founder of the campaign, Ben Lloyd-Ennals, added: "Peckham, like the rest of London, is changing so quickly right now. It's essential we harness this great energy and prosperity to keep London fun and liveable – which is what the Peckham Lido is all about."