The man acting as official spokesman for the Pegida UK group confessed to spreading hate through a Facebook page he ran called "Ban Islam", claimed there are no peaceful Muslims and has social media ties to the far-right.
Matthew Pope has been giving interviews as the official spokesman of Pegida UK, ahead of the first planned demonstration by the anti-Muslim group in England on 28 February, which started in Germany and has drawn thousands to the streets in both in support of and against it.
Pegida, whose full German name is translated as Patriotic Europeans Against The Islamisation Of The West, saw 25,000 turn up to one of its rallies in Dresden.
Angela Merkel, the German chancellor, said the group is "full of prejudice, a chilliness, even hatred". Pegida is part of a rising tide of anti-Muslim sentiment across Europe, which has seen the rise of the National Front in France and neo-Nazis in Greece.
Pope told the Newcastle Chronicle that Pegida UK chose Newcastle over London for the first UK protest, planned for the end of February, because "there are a lot of right-wing extremists there and we wouldn't want to associate ourselves with them".
And he said the group is only protesting against extreme forms of Islam, rather than against Muslims as a whole. But Pope's personal Facebook accounts are littered with broad anti-Muslim sentiment and suggestions of support for the far-right in the UK.
Among the Facebook pages he likes are Paul Golding, who is leader of far-right Britain First party; Britain First; the British National Party (BNP); the English Defence League (EDL); and Anti-Islam (England Division).
In December 2014, Pope, who is a devout Christian, claimed he was quitting what he called the "anti-Islam movement".
"I have decided to leave the anti-Islam movement. I am now focusing on Jesus only. I feel the people involved in most of it are in it for the wrong reasons," he wrote on Facebook.
"I should be promoting Father's kingdom instead to promoting hatred (even though that was never my intent).
"I confess that I spread hate through 'Ban Islam' with over 90,000 followers, I should have been more responsible.
"After my walk with Christ started, I tried educating about Islam through 'Islam, Deceiver', but I can see there is too much hatred from people to continue my work."
However, he has since continued to post anti-Muslim notes on his Facebook pages and is now involved in promoting Pegida. In January, Pope returned to the "anti-Islam movement", but decried the nationalism of far-right groups like Britain First because it is a distraction from fighting Islam.
"I support the anti-Islamic movement. But I do not support groups that emphasise the patriotism. Any group that deliberately draws attention away from the real issue (Islam) is going to fail," he wrote.
"You, like the EDL and Britain First, are just going to be labelled as racist bigots. It's the price for being nationalist. Until people ditch the patriotic side of things the general public will only label you as racist.
"The problem is not the terrorists. Policing, governments and [the] army will control that. It is the moderate Muslims that need to be exposed.
"And I am afraid all the St George's crosses and skinheads can't solve that. Making the moderate Muslims drop their guard and show Islam's true intent is a game of intellect."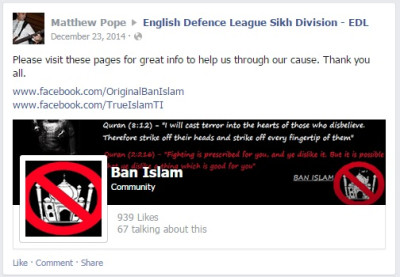 Pope, who lives in the Cambridgeshire area, describes himself as a liberal and an egalitarian who believes in the rights of Muslims to practice their religion.
But he goes on to write: "As it is impossible for Muslims to re-adapt Islam to the 21st century, we only have one choice..... Make Islam illegal."
Despite criticising the group, he shared a video from the Britain First page, adding the comment "there are no 'peaceful' Muslims".
In another comment, he writes: "'Isis goes against Islam'. Really? Have you noticed this statement never follows any references from Islamic text?"
In one Facebook post, Pope implies all Muslims are inherently extremists. He writes that Isis – a group of militant Islamists who have taken control of large parts of Iraq and Syria, where they are imposing a brutal form of Shariah Law on the population – are "not a 'bunch of extremists', they are following commands of their prophet".
Pope's social media postings paint the picture of a troubled individual. He has set up funding sites and asked for donations because he says he cannot find a job and has had to sell his possessions.
He claims to have been sleeping rough in 2014 and that he is a trained mental health nurse, but cannot work in care again because of a conviction for assault.
He said: "I am now in a house and have been guaranteed a job. The issue I have is that the job is a distance from my home," he wrote on his Go Fund Me page.
"I have managed to save up to buy a car (1.4 Rover). I am trying to get the money together to get the car taxed and insured. Work want me to start next week. Please. If anyone out there could help, it would mean the world to me.
"I am not a beggar, I have worked hard to get myself back in the position of independence. Thank you all and God bless."
In a separate post on Facebook, he wrote: "This is the first time I have been unemployed since I was 16. Really down on my luck. Can't bring myself to claim benefits. Got refused a job shelf stacking at Tesco. On top of over 100 rejected job applications this week.
"Funny thing is, I'm a trained mental health nurse that got a GBH for stepping in when two guys were beating up one poor lad. For that I cannot work in care anymore."
He blamed immigration: "While I cry every day as money runs out. Falling into deep depression. I read the papers to find British jobs are being advertised abroad first. I also see thousands of people coming here each week. How come they get jobs and the only job I get is to read the rejection emails that fill my inbox on a daily basis?"
Pope and Pegida UK are yet to reply to IBTimes UK's request for comment.