Haesindang Park is just like any other normal park ... apart from all the penises.
Better known as Penis Park and located on the east coast of South Korea, Haesindang is home to several phallic statues in different shapes and sizes, carved into wood or stone. The location, on a hill, is popular and is attracting even more visitors this year.
Reuters reports that thanks to the Winter Olympics, curious tourists have poured into Haesindang.
In the park, visitors are greeted by an impressively large penis-shaped canon, although touching it is forbidden. Penis benches, totems and lamps in different colours, some with eyes and limbs, decorate the park billed as a shrine to fertility.
Legend has it that a young woman died near Haesindang during a stormy night. Despondent at dying as a virgin, the woman's ghost haunted the water, driving away the fishes. To appease the ghost fishermen erected penises to pacify the woman's spirit.
It is hard to pinpoint exactly when Haesindang came to be. Although, according to National Geographic Traveller, locals still uphold the tradition to this day, and practise rituals in order to keep the virgin's curse at bay.
"I've been all over the world and I've never seen anything like this," said Keith Childs, a Londoner who was visiting the park. Penis Park is a one-hour drive away from the Winter Olympics in Pyeongchang, which makes for an enjoyable day-trip.
However, while a park dedicated to penis might shock some, it is not a rarity in South Korea, a country with the lowest fertility rate in the world, with less than 1.1 child per woman. Several shrines just like this one were erected around South Korea, so much so that Haesindang presents itself as the "only one on the east coast" in order to stand out.
Is that a penis-shaped lamp?
Erotic sculptures are not uncommon in Asia, whether it is meant to celebrate fertility or to titillate tourists.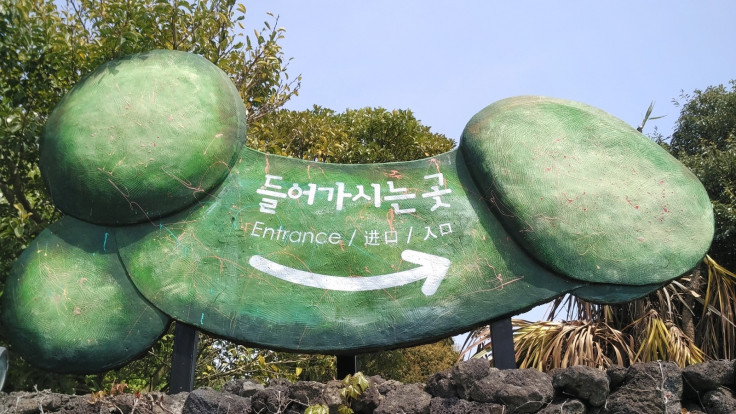 South Korea is also home to the Jeju Loveland, a type of sex theme park created in 2004 by art students on Jeju Island, in the South. It boasts about 140 exhibits in indoor and outdoor galleries dedicated to sensuality and sex.|

In 2015, Taiwan made headlines when it announced it would build a sex theme park similar to Jeju's. The park is set to be divided into four sections: Dating paradise; Scenic spot for wedding gowns; Silk Road of love and a proposed 10,000-metre square sex theme park.
It aims to be educational as well as attract more tourists to the southwestern coast of Taiwan.