US warship was real target in 'suicide gunboat' attack on Saudi frigate - Pentagon
Video of attack catches shouts of 'Death to America! Death to Israel! Death to the Jews!' in Arabic.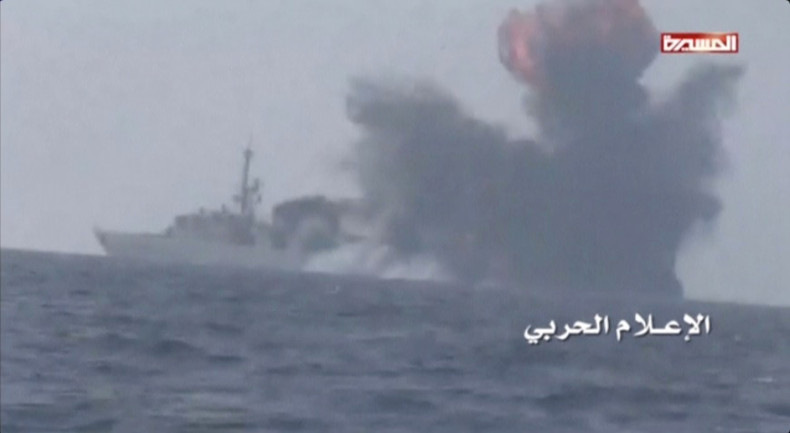 A suspected suicide attack on a Saudi warship off the western coast of Yemen, which killed two sailors and injured three more, may have been occasioned by the mistaken belief that the vessel was American, the Pentagon said.
In a video which shows the huge explosion, a man can be heard shouting in Arabic: "Death to America, Death to Israel, Death to the Jews."
The attack, which at first had been thought to be carried out by a missile, has been blamed on Iranian-backed Houthi rebels. They are engaged in a bloody conflict which has left at least 10,000 people dead.
In a statement, the Saudi state news agency said: "A Saudi frigate on patrol west of Hodeidah port came under attack from three suicide boats belonging to the Houthi militias."
In a statement published by the Mirror, Houthi rebels claimed responsibility for the attack. A military official said: "The Saudi warship was involved in aggression against western coastal cities and Yemeni fishermen."
However, intelligence sources within the Pentagon told Fox News the attackers either believed the ship belonged to the US or were using the attack as a dry run for an attack on US boats in a repeat of the incident in which al Qaeda attacked USS Cole in 2000, killing 17 US sailors.
Several US vessels are in the area in support of the Saudi-led coalition against the Houthi rebels.
A US boat was attacked with missiles in the same location as Monday's attack – the Bab al Mandab Strait linking the Gulf of Aden to the Red Sea – in October 2016. The missiles were shot down and no-one was hurt in the attack, which was followed by retaliatory strikes by USS Nitze on Houthi targets.
Pentagon officials have reportedly told Fox that US warships are prepared for such an attack now.