Furious at a police force "corrupt to the core", President Rodrigo Duterte has called on the military to help clear out "scallywags" from the Philippine National Police (PNP).
"No policeman in this country anywhere is allowed to enforce laws related to the drug campaign," Duterte declared, adding that around 6,000 officers were "into drugs".
Since taking office in June 2016, Duterte's crackdown on narcotics has seen more than 7,660 deaths – mostly users and small-time dealers, according to Reuters. Some 2,555 deaths occurred during police operations, while the others were vigilante killings or remain unsolved.
While the PNP has been "asked to desist from engaging in anti-drug operations", the Philippine Drug Enforcement Agency (PDEA) will now take the front seat in the campaign. The president took the decision after South Korean businessman Jee Ick-joo was kidnapped and murdered by officers at the PNP headquarters.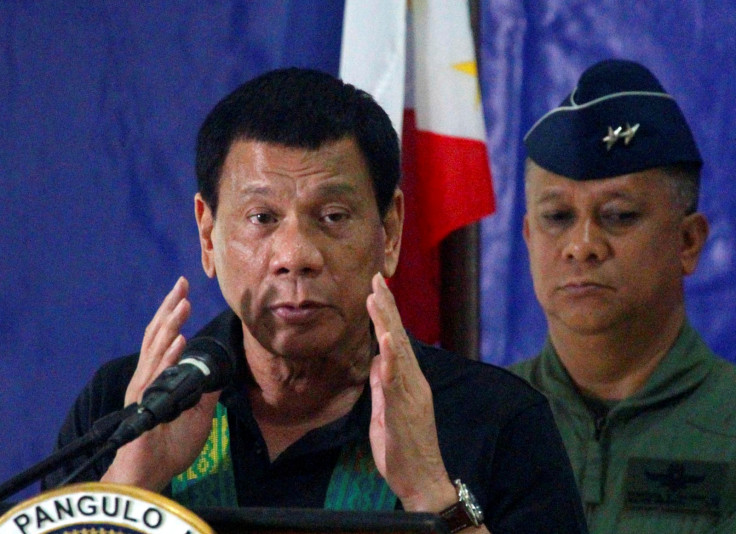 In a speech to soldiers on Tuesday (31 January), the Philippine president said he wants them to arrest corrupt police officers until he is able to reorganise the drug enforcement setup of the PNP, CNN Philippines reported.
"If I would not bring soldiers in, all will be lost. No one would go after corrupt policemen," said Duterte. "There is [a] rampant culture of corruption in the PNP".
Duterte has traditionally been a staunch supporter of the PNP despite his knowledge of corruption in the force. His spokesman, Ernesto Abella said that while Duterte was aware of this, the drugs problem was so big that "the president had to act".
Clarifying the status of anti-drug operations in the country, Abella added: "[The] "impression is that it stopped. No. What happens is the local PNP has been asked to desist from engaging in anti-drug operations but the operations will continue under the PDEA."
A report released by Amnesty International on Tuesday (31 January) which investigated Duterte's war on drugs claimed: "Acting on instructions from the very top of government, the Philippines police have killed and paid others to kill thousands of alleged drug offenders in a wave of extrajudicial executions that may amount to crimes against humanity."