Every day thousands of workers in Asia are exposed to dangerous chemicals without the required protection while making computers and other ICT equipment. The workers are making electronics for some of the biggest brands in the world, and a new cross-European campaign has emerged to suggest an innovative way out.
Recently, incidents of workers in the electronics industry contracting occupational diseases have gained international attention, as victims in South Korea have increased their efforts to get recognition and compensation for victims of occupational diseases.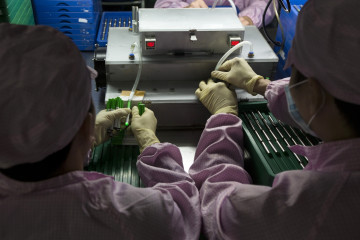 In some parts of the production process, workers are exposed to harsh fumes and contact with dangerous chemicals, which can have harmful long-term effects on their health. In South Korea, 289 workers from the IT manufacturing industry have been documented recently as contracting various forms of leukaemia, multiple sclerosis and aplastic anaemia.
Mi-Yeon Kim worked testing semiconductors for computers in South Korea for Samsung. She is now paying the price for cheap and unethical production.
"I experienced headaches and menstrual pains and had trouble getting pregnant" Mi explains. "Eventually, I did, but it turned out to be a tumour, so I had an abortion. The company only gave me five days sick leave, so I had to resign. Nine days after my resignation I found out that I had another tumour, which was cancerous,."
Due to extensive competition based on cheap labour, the electronics industry is riddled with labour rights violations. Company audits, academic literature and civil society organisations all suggest that the labour rights violations are not specific to single brands, but rather characterise the electronics industry as a whole.
So who is buying products made in these conditions? All of us. Consumers are one group. Another is the public sector and government. Electronics products like computers, printers and laptops are a key part of the spending of schools, hospitals and other public institutions funded by the taxpayer. But if taxpayers held these supply chains up to scrutiny, even in terms of the stated aims of governments to protect human rights, they would fail the test.
This is due to the endemic nature of the problems. No brand can credibly claim to have eliminated labour rights abuses throughout its supply chain, and public sector buyers are therefore left with little guarantee that any ICT equipment being procured lives up to international labour standards.
Consequently, European states are buying billions of pounds' worth of ICT equipment which may well have been produced under conditions where basic labour rights are violated. Workers often endure poverty wages, forced overtime, unsafe working conditions, serious health hazards, and violations of their associational rights.
This poses a serious challenge to public sector organisations who want to ensure their spending of taxpayers' money is sustainable and minimises risks to workers.
Now a new campaign across Europe called People Not Robots is calling on public bodies and governments to use their spending power and contracts with brands to prevent dangerous and lethal conditions in the industry.
Satirising and subverting an actual corporate promotional video by Pegatron, one of the biggest electronics corporations, they are calling on governments and public sector organisations to join a new European initiative called Electronics Watch.
Electronics Watch will monitor the factories that make electronic goods for the public sector, and link the public sector with workers and civil society organisations to hold brands accountable for better conditions.
They are calling on citizens across Europe to tell their governments that electronics workers are 'people not robots', and deserve better than they are getting now.
If you want to sign the petition or view the video see the People Not Robots website.
Jim Cranshaw writes on behalf of People and Planet, an organisation made up of UK students campaigning to end world poverty, defend human rights and protect the environment.