A blindfolded Muslim man offered free hugs on the streets of Manchester, with a sign next to him reading "I'm Muslim and I trust you. Do you trust me enough for a hug?".
The terror attack on an Ariana Grande concert in the Manchester Arena, where Salman Abedi detonated a nail bomb that killed 22 people, has coincided with an increase in hate crimes on Muslim people, with 56 recorded on Wednesday.
Baktash Noori attempted to ease tension and abuse towards members of the Muslim community, but received little attention at first.
His message soon began to translate after a man made the decision to give him his first hug after initially walking past him – encouraging more passers by to join in on the touching sentiment.
The attention Noori was receiving started to generate crowds of people, and queues eventually began to form as pedestrians waited to commend him for his good deed and display of togetherness.
One man approached him and said: "We are all the same whatever we are. And look after each other". Another remarked, "I'm sorry I've just hugged you. What I should have said is – it's a great thing you're doing. No, Seriously. It's a great catch in what you are doing and I think it is the best thing I've seen all day."
The ten minute video showed people taking photos and videos of the gesture on their smartphones, with footage now going viral as Manchester attempts to unite following the horrific attack.
Noori admitted he was apprehensive about the idea in the beginning, but was relieved once his goodwill gesture started moving off the ground.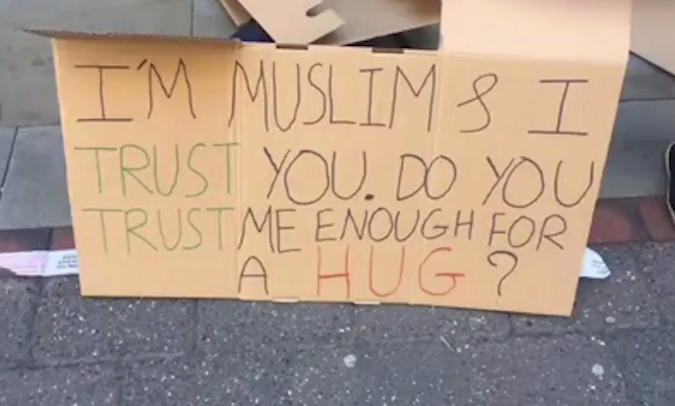 "The first 30 seconds were nerve racking," he told Manchester Evening News. "But once I got that first hug with a lovely comment from that gentleman in my video, it made me feel a whole lot better."
The youngster claimed he was surprised by the volume of people responding to him and said he was proud to make some feel emotional.
"With every hug, the comments I received were amazing, some were getting all teary and it's not hard to tell by a persons hug and tone of voice how much better their and my day became because of this.
"I did not expect so many people to come and hug me, let alone give me such positive comments, but it was the best thing I've ever done."