It has been a match made in heaven: Lionel Messi has spent more than half his life at Barcelona, one of the biggest and most admired football clubs in the world. Messi has won as many trophies in his Catalonian career as he has spent years on the planet. The 28-year-old superstar has just claimed trophies number 27 and 28 – La Liga and the Copa del Ray – before heading off for national service at the Copa América Centenario. But the five-time Ballon d'Or winner has yet to win any championships with Argentina.
Speaking to Sports Illustrated ahead of the tournament, Messi said: "I always go out with the same mentality, the same will, the same eagerness as the first day. My goal is to always improve. Year after year you can learn and grow as a player. Just like in life I think that you always learn something new and always strive to improve."
But can the diminutive dazzler really continue to grow at Barcelona? What is there left for him to achieve? What more can playing in Spain teach him?
In the same SI interview, Messi talked about his desire to return to his Argentinian home city, Rosario, one day. He left when he was just 13-years-old and has been in Barcelona ever since. Will that be his next move? Or will there be something in between?
The Wishful Thinking Brigade have set their hearts on Messi moving to Manchester. Not to a club of similar stature to Barca, Manchester United, but to their old, and now upstart, rivals, City.
The impetus for this dream team thinking is obvious: Barcelona's former spiritual leader, Pep Guardiola, is the new manager at City, one of the few men with the power, influence and character to sway Messi. A reunion in the north west of England would be a huge coup for the new City manager.
Pep held his Bayern Munich leaving party this week after claiming seven trophies in three years for the German giants and will be bringing his backroom team to the Etihad: personal assistant Manuel Estiarte, assistant coach Domenec Torrent, fitness coach Lorenzo Buenaventura and scout and video analyst Carles Planchart.
City are one of the few clubs that could afford the world's best player. They are already paying Guardiola £15m ($22m) a year. Could they make Messi the first £1m-a-week player? Money is no object for the oil billionaires from Abu Dhabi who bankroll City. And the Financial Fair Play rules which would recently have seemed to have blocked such bonkers business seem to be in abeyance and unlikely to cause pause for thought.
The Abu Dhabi United Group want to make their mark by winning the Champions League. They have jettisoned a manager who took them to the semi-finals this year, Manuel Pellegrini, in favour of a coach who has a proven track record of winning European football's biggest club prize (although he didn't do it at Bayern).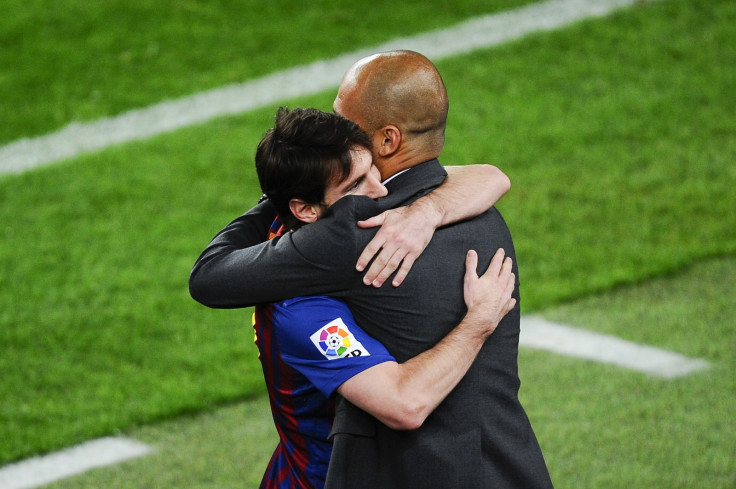 Just imagine the money that is going to be spent in Manchester with Guardiola's arrival and Jose Mourinho's at Manchester United.
While Messi is a Spanish speaker and not fluent in English, he could certainly feel at home at City, who already have six Argentines in their squad, including close friend Sergio Aguero, Martin Demichelis and Nicolas Otamendi.
With the world's best player – in addition to an already strong squad and a fabled new manager – City could conceivably reach their European goals.
But why would Barcelona want to sell a star who has led them to such glories? Barcelona currently have the world's most famous strike force: Messi, Brazilian Neymar and Uruguayan Luis Suarez who combined to score 131 goals in the season just ended. Messi scored 41 of them. But minus Messi, Barcelona are hardly light of great goalscorers.
More pertinent are financial impetuses. Messi will be 29 next month and is contracted until 2018. He is currently worth a minimum of £125m ($184m) on the transfer market but that figure will drop as his contract comes closer to its conclusion and he enters his third decade. Now might be the optimal time to cash in for Barcelona. As rich as the Catalan giants are, they could probably do with the money: a £400m+ redevelopment of the Nou Camp is planned and the club's astronomical wage bill eats up 73% of its revenue . Of course, they could just sell one or two of their other superstars.
While Messi has spent 15 years thinking of Barcelona as his home, the love affair is becoming a little frayed. The footballer and his father are due to face a court case accused of tax fraud. And while Messi has plenty of money, a large chunk of this comes from sports manufacturer Adidas, and Barcelona have just signed a big new deal with Nike.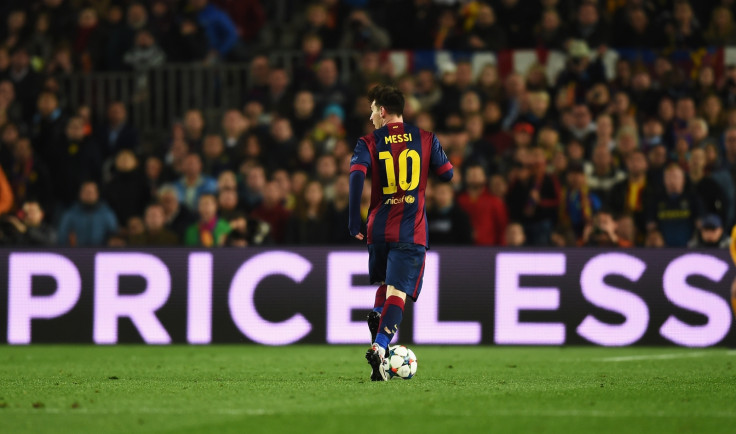 So, a potential Messi deal would make sense for Manchester City and could make sense for Barcelona. But the decision will surely lie with Messi, a man who has called Barcelona home for 15 years, and when talking about relocating has only mentioned his home town in Argentina.
Does he need to play elsewhere in order to prove himself? Pelé was the greatest despite spending his entire career at Santos – aside from a couple of twilight seasons in New York. Then again, Pelé also won three World Cups and played in a very different era. Diego Maradona might be a more meaningful comparison: he proved himself at international level and at a variety of clubs in a selection of leagues, notably Boca Juniors, Barcelona and Napoli. Winning the Champions League at City would bolster an already impressive honours collection and prove that Messi could do it outside the comfort and genius of FC Barcelona.
But how much is Messi driven by personal accolades and awards? While we count out his achievements – he recently scored his 500th career goal - we seem to take more notice of this than he does. While his rivalry with Real Madrid's Cristiano Ronaldo probably pushes him towards further greatness, it is a competition that, at least on the outside, features Ronaldo's camping it up for the cameras and Messi's humility.
Of course, Messi could choose to leave and not head for City. But his options are limited, not least by the number of clubs that could afford him. He would be a fool to follow Luis Figo in making a transition from Barcelona to Real Madrid. City are the only English club likely to be willing to splash the necessary cash. If he were to move to Bayern Munich the time would have been when Guardiola was the manager there rather than afterwards. Italy's Serie A is not the financial or playing giant that it once was. The Premier League represents the best option for proving his place in the pantheon. Maradona and Pele never played for an English club.
Will Messi stay or go? Only he really knows what he wants. But if he does go, then City are in the box seat. It is a move that Manchester City would so desperately like to make: proof that they have the financial and footballing clout to attract the best player in the world. And a player who really could make their footballing ambitions come true.