Liverpool goalkeepers Brad Jones and Pepe Reina will use the week running up to the Merseyside derby against Everton to prove their worth for a starting role at Goodison Park.
Jones filled in for the injured Reina in the victory over Reading on Saturday and will face Anzhi in the Europa League on Thursday as his Spanish teammate continues to recover from a hamstring problem.
The 30 year old has been the mainstay of The Reds goal since joining the club in 2005 and is fighting to be fit for the first derby of the season on Sunday.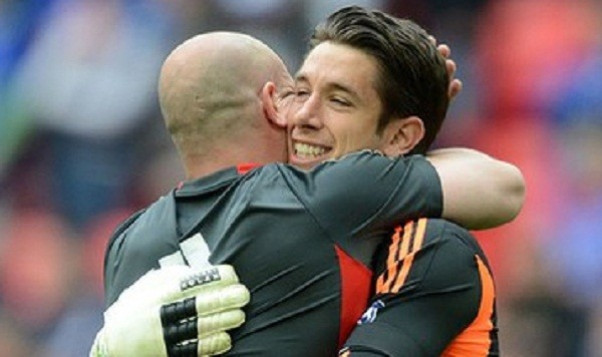 "I'm getting better, little by little," Reina said.
"It wasn't worth taking any risks because you risk it getting worse. I'll be patient and get really good.
"Brad was excellent. He was composed, he was really good in the air, when he was called on he was fast off his line, and he played well with his feet. He had a complete game.
"He's a good fighter and a good 'keeper for Liverpool, not just an understudy. He's another 'keeper for the club and he'll do his best to play as many games as possible."
Despite doing the double over Everton last season, and winning the FA Cup semi-final meeting between the two, The Toffees earned domestic supremacy by finishing above Liverpool in the Premier League table.
Any hope of Brendan Rodgers snatching back local pride partly rests on the fitness of Reina, who has become among the club's most dependable performers, in stark contrast to Jones.
The Australian keeper made just two appearances for Liverpool last season; an error strewn display in the win over Blackburn Rovers, and in the cup semi-final with the blue half of Merseyside at Wembley.
The former Middlesborough stopper will hope he has the midas touch once again should he feature against Everton on Sunday, but concedes he's only thinking about his next outing; in Europe on Thursday
"I don't know [about facing Everton], that's down to the manager," Jones said. "The more games I play the happier I'll be.
"It's his decision. We've got another game on Thursday and I'm just focusing on that. We will see how that goes. If I can keep playing after that I'll be delighted."