Arsenal defender Per Mertesacker has spoken of the trouble he first encountered when joining the club last summer.
Mertesacker was among a spate of signings for The Gunners during the back-end of the transfer window, and the German found it tough to settle into the pace of English football with a series of uncertain performances as the club struggled early in the 2011/12 campaign.
However, a tough start has been replaced by an impressive beginning to the season, and the 28 year old says he now feels more settled in the Premier League.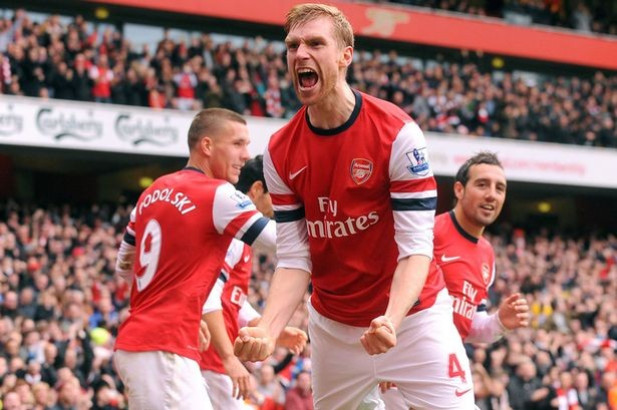 "I had a very difficult first season with all the settling in and the new things at Arsenal," Mertesacker said.
"It was quite tough for me but now I feel much more comfortable with the situation, with the season, with opponents, with our team as well, with the game we play.
"It's much more physical than the Bundesliga so you have to make your mind up about the tackles, about the way you cover your partner. So I set those things up a bit and I feel much better than last season.
"I'm enjoying my football, ­especially at Arsenal. We try to play our game, to set the pace and the improvement was so big, especially when you train more than one year with a team.
"The improvement is that big and I think you can see it. You can see those players who came in this year; they need a bit of time to settle in completely."
Mertesacker and co helped Arsenal towards the best defensive record earlier in the season, but defeats to Manchester United and the draw with Fulham has seen them slip behind the likes of Manchester City and Stoke City.
The former Werder Bremen defender was among a spate of late summer signing from Arsene Wenger following the departure of Samir Nasri and Cesc Fabregas, with Mikel Arteta, Park Chu-Young and Yossi Benayoun also joining Arsenal late in the window.
The club's improved start to the season, in stark contrast to the previous campaign, gives Arsenal a genuine chance of penetrating the Premier League top three.