A detainee who was held for 16 hours in a new state-of-the-art Perry Barr police station cell has written a detailed TripAdvisor-style review of the facility praising its "pleasantly surprising cleanliness and decor".
The 24-year-old was arrested on the evening of 29 June after being arrested for criminal damage at a property in Erdington, Birmingham. He made the most of his 16 hours locked up by observing everything from his officer's "excellent" tea making skills to the neutral colour of the cell.
In his inspection report he commented on "how modern and clean the building looks" and applauded how he was "dealt with promptly by a custody officer and shown to a cell".
"Firstly I would just like to say how disappointed I was to find out Sutton Coldfield no longer has a police station," he begins. "After multiple visits there I had come a custom [sic] to their layout and friendly staff."
The repeat offender goes on to say how impressed he was by the modern facility and that he was dealt with promptly by the custody officer.
"Once in my cell I was pleasantly surprised by the cleanliness and décor… neutrally decorated to please all parties but done to a high standard," he continued.
He did, however, find one negative about the experience: a rogue pubic hair. However, upon closer inspection, he realised it may have been his own.
"I did, however, find a pubic hair near the toilet," he wrote. "On closer inspection, the ginger hint of colour and length would probably suggest it was mine. Sorry."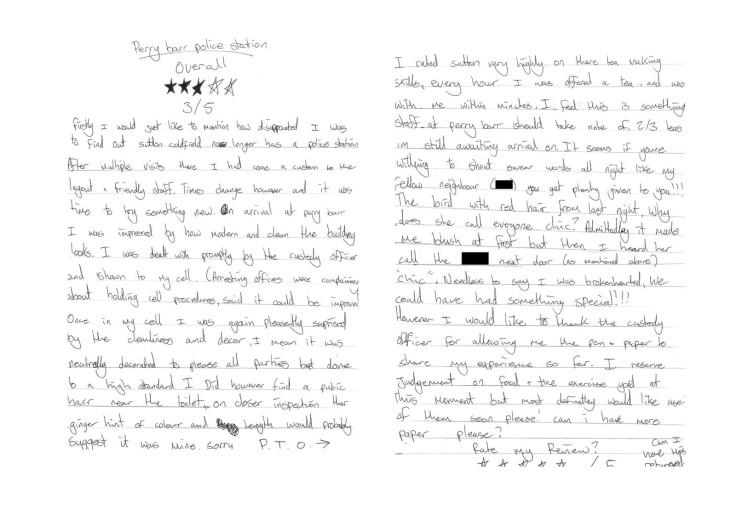 Awarding the Perry Barr jail three stars, the man said he would "reserve judgement on food and the exercise yard" but predicting future stays in the cells there he added he would "definatley [sic] would like use of them soon please".
Chief Inspector Paul Minor, West Midlands Police criminal justice manager, joked he was disappointed at the harsh awarding on just three stars: "We feel it's a five-star facility: it's designed to be safer for staff and guests and the more efficient check-in process means we can get arresting officers back out on the streets more quickly.
"The reviewer has been very complimentary about the facility and staff… but I think he's been a little harsh by awarding it just a three-star rating!"