Following an appeal by Indian Prime Minister Narendra Modi, schools across the country observed two minutes silence to mourn the death of students and staff in a Taliban attack in neighbouring Pakistan.
Expressing their grief, scores of children across schools in India sported black bands condemning the attack on Army Public School students in Peshawar which claimed the 132 lives of including nine staff members.
Apart from schools, special prayer services were also held in the country to show support for Pakistan.
"In the wake of dastardly attack in Pakistan, I appeal to schools across India to observe 2 mins of silence tomorrow as a mark of solidarity," the Indian prime minister wrote on twitter earlier.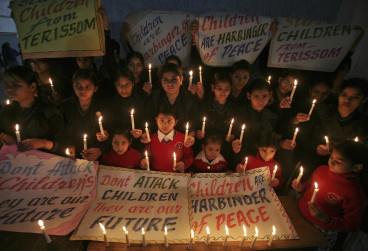 Modi added: "India stands firmly with Pakistan in fight against terror. Told PM Sharif we are ready to provide all assistance during this hour of grief."
In the capital New Delhi, some schools have planned to hold protest marches.
Both the Lok Sabha (Lower House) and the Rajya Sabha (Upper House) of the Indian parliament observed silence as a mark of respect for the victims of the Peshawar massacre.
A resolution has also been passed in the Lok Sabha reading: "The House resolves that all barbaric terrorist attacks against innocent people especially vulnerable children should not be tolerated, and calls upon all the nations and each and everyone with all the energies at their command to fight against all acts of terrorism in all its forms and manifestations."
In a related development, security personnel are keeping a close watch on all schools and colleges in New Delhi to avoid a similar incident.