Key information
At least six militants entered school in north-west Pakistan, wearing security uniforms, before massacring at least 130 people and injuring 122.
Attack by militant group Tehrik-i-Taliban Pakistan (Pakistani Taliban) in response to Pakistani military operations but possibility that school targeted because Malala won Nobel Peace Prize for education activism.
Most of the school's 500 students have been evacuated.
Pakistani officials say the operation to clear the school has ended and all of the militants have been killed.
Three days of nationwide mourning have been declared by PM Nawaz Sharif.
All times are in GMT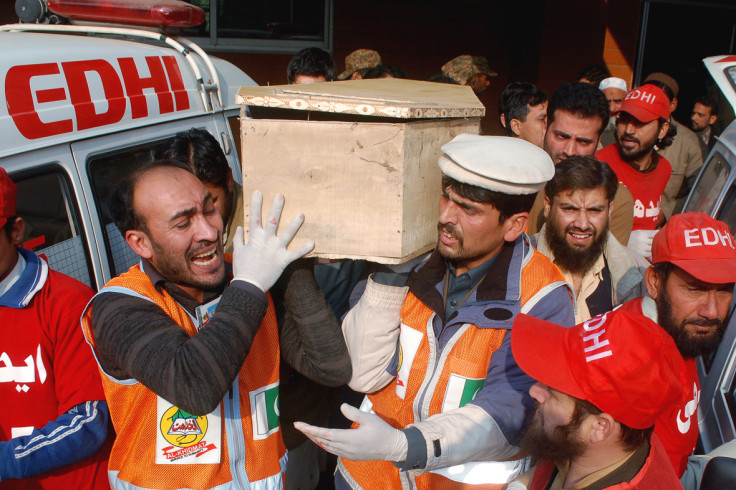 15:30 IBTimes UK's live coverage of the Peshawar attack ends here. For updates, follow us on Twitter.
15:12 The spokesperson for UN Secretary-General Ban Ki-moon tweets:
15:10 The UN's top human rights official Zeid Ra'ad Al Hussein says:
Nowhere in the world should it be an act of bravery for a child to attend school. Yet, in parts of Pakistan, Afghanistan and Nigeria simply showing up at school takes tremendous courage and determination. In recent years, my staff have been receiving increasing frequent reports in these three countries of schools being destroyed or closed because of militants' threats, and of schoolchildren - especially girls -- being kidnapped, shot, attacked with acid or poisoned by groups whose ideology bears no resemblance to any religion or any cultural norm.
15:07 Here is an IBTimes UK map of Pakistan and Peshawar.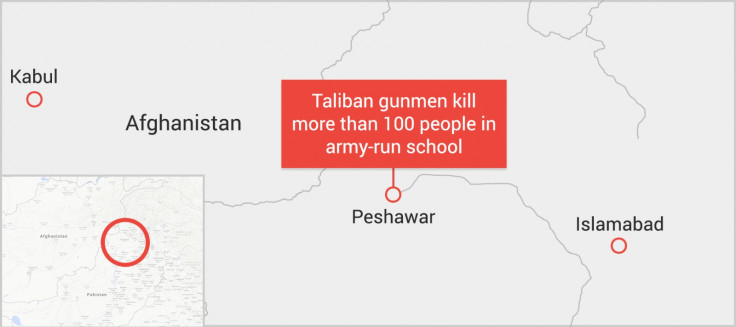 15:06 Speaking in London US Secretary of State John Kerry described the attack as "gut wrenching."
14:49 Three Pakistani officials confirm to AP that the operation to clear the school has ended.
14:47 The White House tweets President Barack Obama's statement condemning what he calls a "heinous attack" on a Pakistani school.
14:43 The home department of Peshawar's Khyber Pakhtunkhwa province tweets:
14:21 AP has published a list of the major Taliban attacks in Pakistan in recent years:
2014:
— Nov. 2: Taliban suicide bomber kills 60 in attack on a paramilitary checkpoint close to the Wagah border crossing with India.
— June 9: Ten gunmen disguised as police guards attack a terminal at Pakistan's busiest airport with machine guns and a rocket launcher, killing 13 people during a five-hour siege.
— 8 June: A suicide bomber in the country's southwest killed at least 23 Shiite pilgrims returning from Iran.
2013:
—Sept. 22: A twin suicide bomb blast in a Peshawar church kills at least 85 people.
—Aug. 17: Heavily armed Taliban fighters blast their way into a Pakistani air force base, leaving two security officers and nine insurgents dead.
—June 22: 10 Foreign climbers killed by militants on Nanga Parbat, ninth highest mountain in world.
—March 3: Explosion in Karachi kills 45 Shiites outside a mosque.
— Jan. 10: Bombing in Shiite area of southern city of Quetta kills 81 people, wounds 120.
2012:
— Nov. 22: A Taliban suicide bomber struck a Shiite Muslim procession in the city of Rawalpindi, near Pakistan's capital, killing 23 people.
— Jan. 5: Taliban shoot and kill 15 Pakistani frontier police after holding them hostage for more than a year.
14:15 The Washington Post's Karachi correspondent Nisar Mehdi tweets:
14:07 German Foreign Minister Frank-Walter Steinmeier says:
I condemn this criminal attack in the sharpest possible terms. The cruel cowardice of taking children hostage and murdering them surpasses everything that Pakistan, which has been subjected to terrorism and violence for years, has known to date.
14:01 In this photo, ambulances carrying schoolchildren make their way from the school attacked by Taliban gunmen.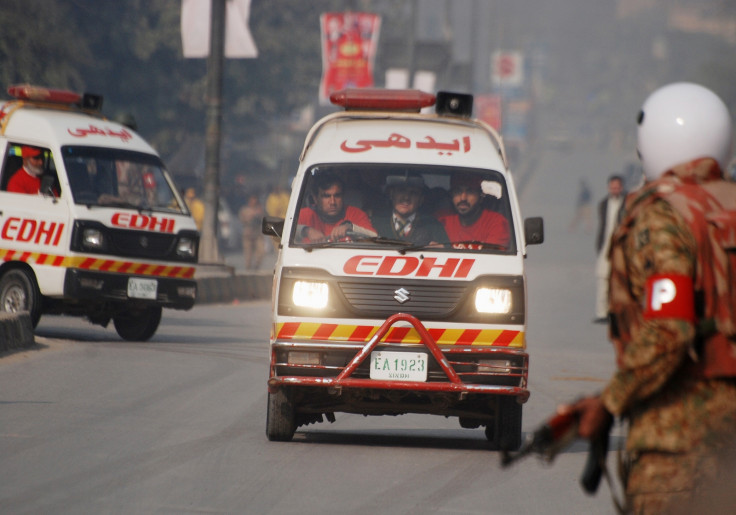 14:00 Malaysia Prime Minister Najib Razak tweets:
13:55 Here is a map locating the Army Public School in Peshawar, Pakistan, targeted in the attack.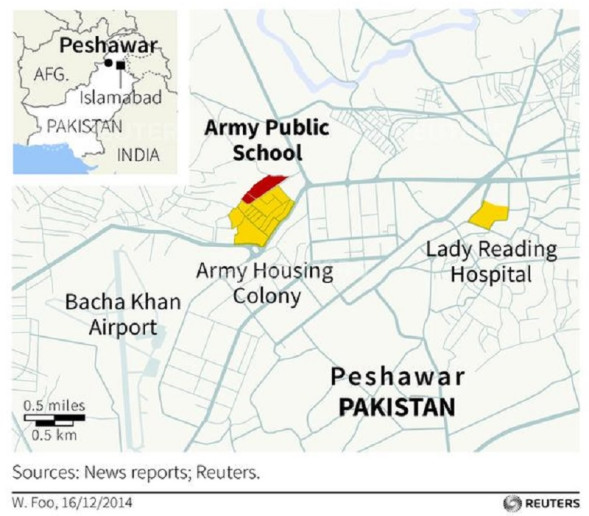 13:50 The Indian Express tweets that the death toll has risen to more than 160:
13:43 Police official Abdullah Khan tells AFP:
The combat operation is over, the security personnel are carrying out clearance operation and hopefully they will clear the building in a while.

Dead bodies of six terrorists have been found in the building.
13.34 Pakistan Prime Minister Nawaz Sharif says the government will continue its fight against terrorism:
"The government together with the army has started Zarb-e-Azb and it will continue until the terrorism is rooted out from our land. We also have had discussions with Afghanistan that they and we together fight this terrorism, and this fight will continue. No one should have any doubt about it."
Zarb-e-Azb is the name of the military operation launched against militant groups in North Waziristan.
13:30 Pakistan's Dawn News reporting that the death toll has risen to 131, as another wounded school child has died.
13:26 BREAKING: Pakistan school attack is over, according to AFP news agency. All of the militants have been killed.
13:24 President of neighbouring Afghanistan, Ashraf Ghani, has added to the condemnation of the school attack, giving his thoughts to the families of the victims.
13:13 NDTV claim that Nobel laureate Kailash Satyarthi condemned the attack and said: "I beg the Taliban, take me and leave these children."
12:36 More updates from the chief spokesman for the Pakistani army, who says that a sixth Taliban militant has been killed and 11 more staff has been rescued from the school.
12:31 Education activist and Nobel peace prizer winner Malala Yousafzai has joined the chorus of condemnation against the "atrocious and cowardly" attack on the Pakistan school.
"I am heartbroken by this senseless and cold blooded act of terror in Peshawar that is unfolding before us. Innocent children in their school have no place in horror such as this.
"I condemn these atrocious and cowardly acts and stand united with the government and armed forces of Pakistan whose efforts so far to address this horrific event are commendable.
"I, along with millions of others around the world, mourn these children, my brothers and sisters - but we will never be defeated."
12:27 According to reports, local hospitals treating those wounded by the attack are calling for urgent blood donations as the attack threatens to overwhelm the city's medical services.
12:20 The three-day period of mourning has been extended nationwide by Pakistani Prime Minister Nawaz Sharif. He has also requested for an all-party conference in Peshawar tomorrow.
12:15 Gordon Brown, former British Prime Minister and now United Nations special envoy for global education, has condemned the attack on the school.
It has never been acceptable for schools to be places of conflict and for children to be subject to violence simply because they want to learn. Education is opportunity and hope for building nations.
Too often innocent girls and boys have become targets for terrorists who want to deny children the right to education and schools have become theatres of war.
No one has the right to deny a boy or girl their education and we will stand alongside the parents and the children against the Taliban's refusal to recognise every child has the right to education.
12:05 Check out IBTimes UK's coverage of the Peshawar school attack.
Here's a round up of the reactions of world leaders to the horrific siege, a Taliban expert's belief that the militant group may have attacked the school because of Malala winning the Nobel Peace Prize and Indian Prime Minister Narendra Modi condemning the raid as a "senseless act of unspeakable brutality".
12:01 US Ambassador to Pakistan Richard Olson has released a statement condemning the brutal attack on the Peshawar school.
"The United States strongly condemns senseless and inhumane attacks on innocent students and educators, and stands in solidarity with the people of Pakistan, and all who fight the menace of terrorism," the statement reads.
"Few have suffered more at the hands of terrorists and extremists than the people of Pakistan," the statement adds. "That is why it remains essential for the United States and Pakistan to continue to work together to secure peace and stability in the region".
12:00 Al-Arabiya and AFP news agency are both reporting that the death toll has now risen to more than 130.
11:55 More unconfirmed reports of horrific details coming out of the Peshawar attack that some of the bodies arriving at hospitals have been headless, according to "Omar Quraishi".
11:49 Unconfirmed reports are emerging that a number of students were shot in the head and chest by the militants and others died at the hands of a suicide bomber in the school playground.
11:47 Reporter for IBTimes UK Maria Khan spoke to her aunt in Pakistan who confirmed that other schools in the area are in complete lockdown following the attack.
"My aunt who heads the Beaconhouse School System in Pakistan gave me some info on what followed at the Khyber Campus branch of her school in Peshawar. She is saying there was a lockdown in all the schools and parents weren't allowed to come and pick any of the children."
11:41 A source from Peshawar's Bacha Khan International Airport, speaking on condition of anonymity to IBTimes UK, said that the situation at the local airport has continued as normal despite the attack.
"It's not scary, but it is a big surprise. It is a sudden incident, it is an attack on the children, and it is not acceptable.
"The airport operation is normal. Things are normal here. Security is 24-hour here, everyone is doing their job. The roads are blocked so I couldn't leave, the roads are open again now, and normal.
"The people coming to their flights were stuck on the roads, and they couldn't fly, but otherwise the flights were normal.
"Things are going to normal now, only the affected area is under security control. The airfield is open."
11:37 Many well-known names with links to Pakistan have taken to social media to express their anguish at the attack. Jemima Khan, former wife of Pakistani cricket captain Imran, and Fatima Bhutto, niece of former Pakistani Prime Minister Benazir Bhutto.
11:34 Pakistani Prime Minister Nawaz Sharif has spoken on the attack, where he pledged to eliminate terrorism from the region near the Afghan border.
"We have launched military operation against Taliban which will continue.
There is no doubt that we are determined to eliminate these terrorists. We are also in touch with Afghan government to end terrorism as soon as possible.
The nation should stand up against Taliban terrorists. Military action is extremely successful."
11:32 David Cameron has reacted to the Peshawar attack, tweeting: "The news from Pakistan is deeply shocking. It's horrifying that children are being killed simply for going to school."
11:29 The children involved in the attack by the militant group are believed to be aged 15 and under.
11:27 Three days of mourning have been announced in the Pakistani provinces of Punjab, Sindh and Khyber Pakhtunkhwa.
11:23 Ahmed Rashid, a Taliban expert, has continued to offer context as to why the military school may have been targeted by the terror group.
"Many of the soldiers and officers fighting the Taliban have their children in this school so this is an attempt to demoralise the military," he told BBC World Service.
11:20 More updates from Asim Bajwa, the chief spokesman for the Pakistani army.
11:17 The Pakistan Army claims to have rescued two children and two staff members at the Peshawar school.
11:14 World leaders have started to react to the news of the Peshawar massacre. Indian Prime Minister Narendra Modi condemned the attack on social media.
11:05 A Taliban expert, Ahmed Rashid, has told the BBC that the attack is predominantly in response to Pakistani military operations but that targeting the school may be due to education activist Malala winning the Nobel Peace Prize.
11:00 Welcome to IBTimes UK's live coverage of the Taliban attack on a Peshawar school in which at least 126 people, mostly children, have been killed.