Moeen Uddin, a teacher by trade, played a key role as an auxiliary counsellor in Peshawar's beleaguered hospitals after the Taliban attacks. Here, he gives his account of the horrors he saw.
I belong to the education sector, I started my career as a school teacher and I have been working in Islamabad on an education project, I have been in Peshawar the last two days because I've been ill, but I was supposed to leave for my office today. Then the attacks happened.
I was at home when I heard the news. My children are at schools elsewhere in Peshawar (there are dozens around the city) and they were obviously the priority. I called my youngest son's school, which is 4-5km from the school which was attacked, and told them to check their security. Then I called my eldest son's school, and they told me the attack was actually a lot more serious than the media was making out.
I am a teacher myself, I know when something is out of control. You know when there is a panic situation, things get out of control, and this plays into the terrorists' hands. My initial responsibility was to go and collect my own children, but I also knew I had to do something myself, because no-one was taking responsibility.
So I called the police, urging them to do something, and began calling the other schools individually, urging them not to send buses at the same time, otherwise the roads would become gridlocked. I must have called 40, maybe 50 schools in total. I also called the media, specifically Nadia Sahobi, an investigative reporter for Geo TV news. I called her 14-16 times, asking her to talk to the police and urge them to put plans in place. She was a media person, so people would take her seriously.
'Dozens of uniforms full of blood'
At about 4pm I went to the Combined Military Hospital, to which a lot of the dead and wounded were being taken. I wanted to use my skills as a teacher, my experience in this area, to help the people, I'm a social worker basically, and I'm launching a consultancy specialising in schools. If I can't help today, how can I claim to help people?
I saw ambulances and the dead bodies of the students. I noticed they had received at least 50 dead bodies at the CMH by 4pm. Dozens of children in full uniform, their bodies full of blood. People close to tears, some crying, some convinced their children were martyrs. People were screaming, shouting, inconsolable. I cannot tell you what they were shouting.
It was as if the children had been playing with guns. The bullets were in their hands, heads, limbs, everywhere the bloody idiot terrorists could hit them. Some had their whole bodies covered in bullets. But I didn't see any headless or limbless bodies as some media outlets have reported; I heard that some of the terrorists did blow themselves up, they were near to children and so these children would have been affected as well. But from what I know this headless, limbless line isn't true.
I spoke to an inspector, who told me that at the school wounded people were shouting, children were shouting 'I'm hit in my back, legs, limbs' wherever. There were activities going on in the school, a function, the students were given a workshop on how to handle a disaster management workshop.
When I talked to the students who survived, they were unable to understand why the terrorists were firing when the children ran away. Senior students were told to lie down on the floor and pretend they are dead, but the children's instinct is to run away. The children said the terrorists hunted them, like you hunt your prey.
I also talked to the families. When they heard Pakistan's chief of staff, Raheel Sharif, was returning from Quetta to Peshawar, every person was talking about attacking India. The sixteenth of December is the anniversary of Bangladesh's separation from Pakistan, and people seemed to think the Peshawar attack had something to do with this, was part of some wider conflict in the region.
People were blaming India, and urging the general to make a statement attacking them. The sentiment was 'ok Modi, you are pro-Hinduism, you have done it. Sharif, you give the statement. We will bury our children, we are with you.' It's not my job to tell them this was wrong. It's the government's job. I don't want to involve myself in such conspiracies.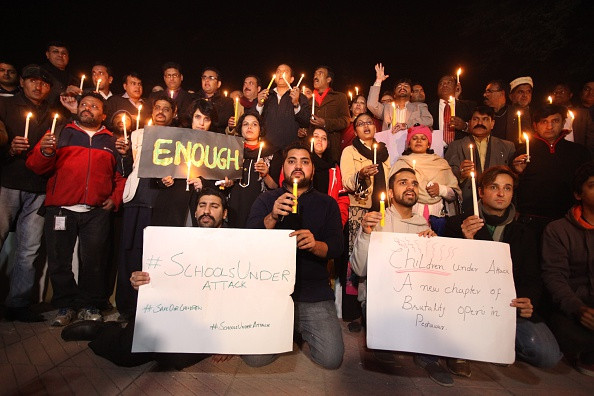 Useless politicians
After about an hour at the CMH I went to the other key hospital, the Lady Reading Hospital, which received even more of the dead and wounded. There were also more media personnel there, and politicians had begun to arrive in huge numbers. In this chaos the doctors played an excellent role, as did the paramedic staff. Credit goes to the health minister for organising them.
But the other political leaders were not helping. In fact they were point-scoring, giving their own political story. Doctors were crying "leave us to do the treatment. If you want us to save the lives of the children who can survive, do not enter the hospital." I had three fights with PTI workers at the hospital. I told them "please for the sake of God, this is not the time for political statements, this is a national crisis.' But the media is so unethical in Pakistan that, for the sake of the media, people can sacrifice their own children.
What were the most disturbing things I saw today? One was the cry of a father who told me that before dying, his son told him: 'I saved my class.' When the terrorist wanted to enter his room, the boy pushed the terrorist away. The terrorist shot the boy on the spot. He was wounded in the chest and eventually died.
The other was a dead body, covered with a white cloth. In spite of the fact that he was dressed up, his blood was not stopping. I thought about my own sons and I was crying. These children were sent by their parents in the morning in the belief they'd be having lunch, tea at home. Instead, they will be buried.
Children are so precious. Whether they are Muslim, non-Muslim, they are innocent. Innocence has no religion. Innocence should not be targeted. My demand as an educationalist is that whatever is the issue, whatever is the agenda, no-one should target innocent children.
These may well be well-off children, the children of high-ranking of army staff, but the whole Pakistan is affected by it. The whole of Pakistan is crying tonight.